This TikTok Hack Will Transform a Laundry Room Sink Into a Gorgeous Vanity
We independently select these products—if you buy from one of our links, we may earn a commission. All prices were accurate at the time of publishing.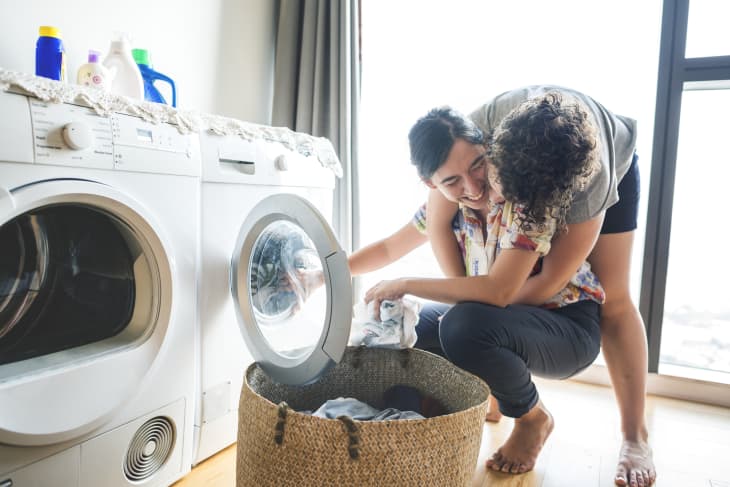 Having a vanity sink inside your laundry room may seem impractical, given the cost of installing one, but this DIY expert found a budget-friendly way to transform her sink while using only two sheets of plywood.
Follow Topics for more like this
Follow for more stories like this
TikTok user @LivingwithLeyla turned her drab utility sink into a stylish faux cabinet without breaking her budget and calling the plumber. Among a variety of other home improvement-related videos on her TikTok account, she reveals her somewhat simple process.
First, she purchased two sheets of plywood, while recommending others to use a material with a bit more finish, like birch. Then, she cut several big pieces to form the front, sides, and top. For the fake drawers, Leyla sawed smaller strips of wood and nailed them together. And for the finishing touches, she painted the entire thing with Acacia Haze by Sherwin-Williams and added handles to complete the illusion.
The result is a faux vanity that instantly adds personality to an otherwise ordinary space like a laundry room or a basement.
"Girl stop. This is perfection," said one commenter, while another added, "I love this! I'd probably forget they aren't real drawers and get mad every time."
Other users were concerned about the difficulty of accessing the pipes in case of a leak, but Leyla assured them that the frame is removable and that "it slides right out!"
It's worth mentioning again that the DIY project may involve some expertise to pull off, but it could help you stay on budget. On average, a 4×8 feet sheet of plywood costs anywhere from $10 to $50. So, if you need two sheets for the faux cabinet, you should spend no more than $100.
You can see more of Leyla's DIY projects, as well as tips and tricks, on her TikTok account.