This Renter-Friendly Hack Helped Me Minimize Noise from My Building's Foyer
We independently select these products—if you buy from one of our links, we may earn a commission. All prices were accurate at the time of publishing.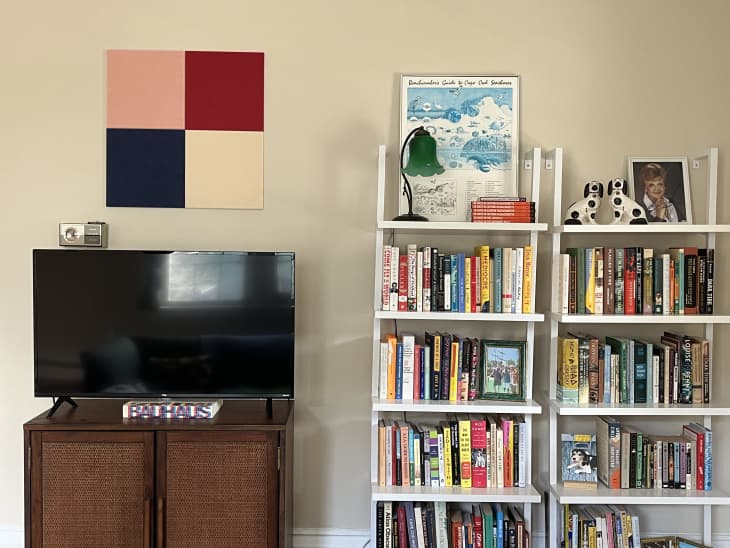 I love almost everything about my apartment … although if I had to change one thing, it'd be the paper-thin walls in my living room. 
Here's the deal: On the other side of my living room is the entrance for the unit above me. The wall my bookshelves lean against is shared with this foyer, where a staircase leads to my neighbor's unit. The thing is, anytime my neighbor comes home, it feels like they're unlocking the door to my apartment. The sound carries in a way that makes me jump every time. Conversely, everytime they come home, they probably feel like they've just entered my living room, thanks to the dings from Wheel of Fortune and Jeopardy playing on my TV.
Follow Topics for more like this
Follow for more stories like this
While I thought adding some more furniture and textiles to the room might help dampen the sound, it wasn't enough. So I went searching for something better — and turned up a product called FeltRight. In a nutshell, FeltRight sells acoustic felt panels that easily attach to the wall via removable adhesive. You can design a colorful felt pattern for your space on their website or choose from some of their default designs. Once you've selected your panels, you're practically good to go.
A lightbulb went off in my brain. I could stick up one of FeltRight's fun designs on the empty space above my TV and maybe it'd make a slightly better division between my living room and the foyer. So, I requested color samples to see what worked best with my living room. Then, I went over some of the designs with a staffer from FeltRight, chose my colors, and ultimately landed on a simple color block pattern. 
After they arrived, sticking them to the wall was a breeze. The removable stickies make them renter-friendly, which is excellent. As a bonus, they filled the awkwardly empty space above my TV perfectly — and look like a piece of modern art. 
My colorful square dampens things just a bit, and I'm pleased. While I'd need to cover quite a bit more of my wall with felt to completely shut out the noise, my little panels do a great job of blocking my living room sounds from carrying over into the foyer. Over the next few months, my plan is to add more stylish panels to the walls in the foyer to really get the job done.