Finally: Energy-Efficient LED Bulbs With A Traditional Warm Glow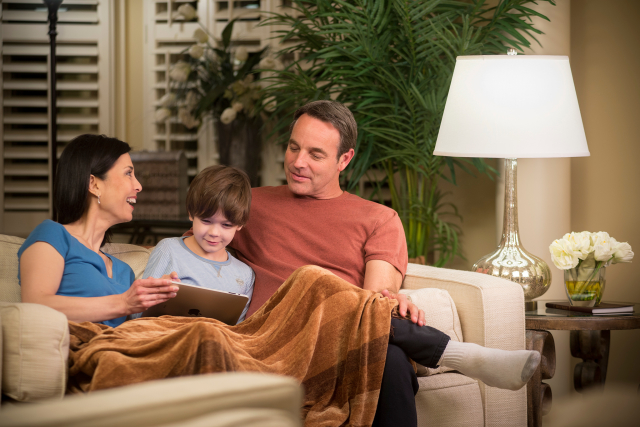 Home lighting is getting exciting. Light bulbs have evolved more in the past five years than in the century-plus since the very first incandescents were introduced. LEDs are revolutionizing home lighting by offering even greater energy efficiency than CFLs combined with the warm glow of traditional incandescents. We've partnered with LED pioneer Cree® to bring you up to speed on new LED bulbs and the best ways to use them.
The Cree LED Bulb is a new affordable bulb (and our choice for best LED of 2013) that looks and acts like an incandescent but lasts for years on less energy, and comes with a 10-year warranty. Ready to revolutionize your home lighting? Get started with these three bright tips:
Lighting should be inviting: Gone are the days when being green meant scaring guests away with harsh white fluorescents. Cree's LED Bulbs provide warm light without wasting energy. The Cree LED Bulb saves 84% more energy than typical incandescents and lasts 25 times longer, all while providing a warm, omnidirectional glow that's right in line with traditional bulbs.
Three points of light:
Outfitting a room with at least three points of light at eye level will help expand a space visually and create a greater sense of depth while allowing you to set up different light atmospheres within a larger space. With LED lighting, it's more cost-efficient than ever to keep rooms lit with more bulbs, more often. Cree LED Bulbs work great in various fixtures in a room, from desk and floor lamps to open ceiling lights and fans.
Adjust away: If you've transitioned to CFLs, you've probably noticed they aren't always dimmer-friendly. Regain control of brightness with Cree LED Bulbs, which offer full adjustability with most standard dimmers. The full collection includes various wattages and even flood lights, so even recessed lighting can transition to LED. Make use of dimmers to adjust light levels throughout the day or create multiple ambiances in the same room.
Did we mention Cree's collection of LED bulbs are very affordable? Starting at $9.97, these bulbs can pay for themselves within the first year of use and last more than 20!
Find Cree LED bulbs at The Home Depot

®

in the U.S. and Canada, or shop online at creebulb.com