One Real Estate Agent's Secret Weapon for Finding Out If a Kitchen Will Need Work in 5 Years
We
independently
select these products—if you buy from one of our links, we may earn a commission. All prices were accurate at the time of publishing.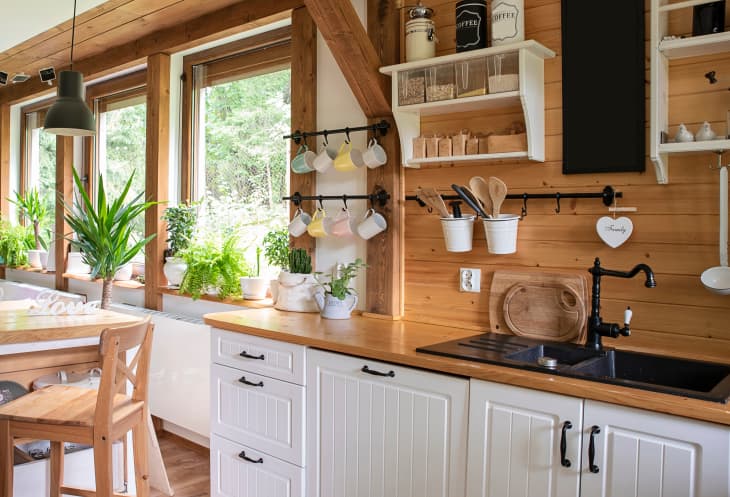 From the listing photos, a home's kitchen may look perfect — lots of natural light, tall cabinets, plenty of counter space, even a cute dining nook.
But real estate photos can, of course, only tell you so much about a kitchen. When you finally get a chance to see it IRL during a showing, how can you tell if the kitchen is sturdy or shabby? Sure, it may look spiffed-up for the open house, but what if it needs some serious work in a few years?
One real estate agent has a simple motto to remember for this very scenario.
"If you're viewing a home for sale and want to know what it may cost you in the kitchen a few years down the road, look up, down, and under," says Amy Owens, a Keller Williams real estate agent in Montclair, New Jersey.
Owen's clever "up, down, and under" catchphrase is easy to remember — and super handy. These are words to live by when checking out the kitchen of a home you may want to buy.
When you look up, check for any water damage, grease, or smoke stains that may indicate the kitchen was poorly ventilated, Owens recommends. Also look for outdated light fixtures. When you look down, scope out the condition of the flooring and check under the bottom kitchen cabinets (where they meet the floor).
"Looking down will give you a clue about the time that has passed since a renovation, as well as how well the home has been maintained," she says. "You may be able to tell if the floor was replaced recently if it clearly ends at — and not under — the appliances and cabinets."
Finally, she recommends looking under the sink for any evidence of water damage or mold, and to see if the pipes and plumbing seem to be in good condition.
We checked in with some other real estate agents for their go-to kitchen red flags, too. 
For example, if the kitchen is closed off from the rest of the house (and there's clearly room for more of an open-concept layout), that's a good sign that the previous owners either didn't update it at all or may have been on a limited budget. It's not totally a dealbreaker, but just another clue as to the kitchen's age and status — and something you may want to budget for in the future, says Todd Maloof, a real estate agent with Hudson Dwellings in Hoboken, New Jersey.
"Not having openness from your kitchen to your living space is a dead giveaway that shows your kitchen is in need of an upgrade," he says. 
Tony Mariotti, a California-based real estate agent with Ruby Home, recommends heading down into the basement or crawlspace directly underneath the kitchen to further look for signs of water damage, like staining, rotting wood, mold, or mildew. If the plumbing system appears to have been spray-painted, that may indicate old or dated pipes — again, not a dealbreaker, but something to be mindful of when buying a house.
"If you see a lot of cosmetic updates to a kitchen, look deeper," he says.
And though the kitchen appliances may be brand new, sometimes home-flippers or inexperienced renovators fail to upgrade the electrical system to account for these upgrades, he says.
"A trick to test the appliances and the quality of the electric system is to turn all appliances on at the same time for at least a minute. If you overload the electrical circuit, you are likely to have issues in the future," he says.
Another great trick for sussing out potential future issues? Using all of your senses. Though you might feel excited or overwhelmed while touring a house, try not to rush. In addition to visually inspecting the kitchen, don't be afraid to touch, sniff, and listen, too.
"Does something smell off or over-sanitized? Check cabinets, especially bottom cabinets, and smell them to see if there is a rodent stench, the smell of urine, an old rotting wood scent, or if it's been doused in bleach — never a good sign," Mariotti says. "Use your hands to touch surfaces to uncover soft spots — signs of water damage — and uneven surfaces."