The Very First Thing You Should Do After Moving into Your Forever Home
We independently select these products—if you buy from one of our links, we may earn a commission. All prices were accurate at the time of publishing.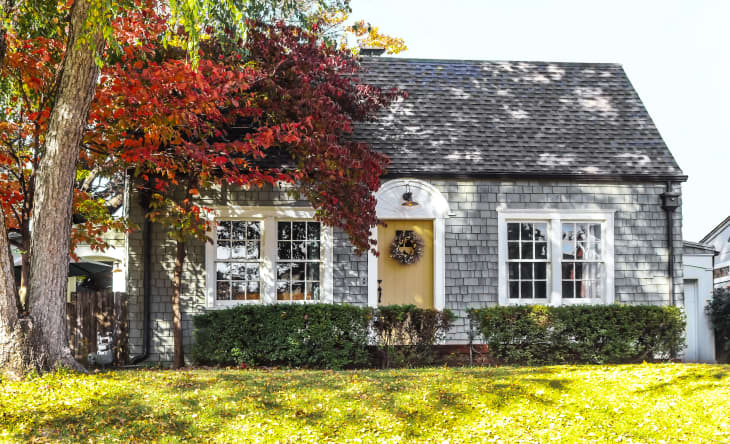 You've finally found the home that you see yourself living in for many decades to come. Congrats! Before you start ordering new furniture, though, there's another thing you need to do first: Plant a tree.
Follow Topics for more like this
Follow for more stories like this
This key landscape feature is something you'll be able to watch grow as you grow into your home alongside it. In the years ahead, you'll have a mature planting to add value to your property, as well as a pleasant yard addition to enjoy.
But which tree should you choose? And where should you put it? Sarah Shepherd, co-owner of the Heights House Hotel in Raleigh, North Carolina, recently renovated an 1858 historic mansion into her nine-bedroom boutique hotel. One of her key considerations was the trees that surrounded the property.
"Our oldest, mature trees were some very large magnolias, oaks, maples and cedar trees," Shepherd says.
Understory flowering trees like the Carolina silverbell were selected by landscape architect Brian H. Starkey to complement the larger trees. For homeowners looking to plant their first tree, Starkey advises paying attention to seasonal color, maintenance, and the views of your house from the street. Ready to get started? Here are a few tips from Starkey.
Choose a visually interesting tree.
What kind of sapling you plant should depend on your visual goals and aspirations. Starkey recommends trees that are visually interesting through the seasons.
"Some of my favorite trees are the Maidenhair Tree, which has brilliant fall color and a distinctive leaf and form; Japanese Zelkova, which is tolerant of soil conditions and air pollution; and Lacebark Elm, which is graceful in form and has beautiful bark," Starkey says.
He prefers dogwoods and redbuds as understory trees, which are trees that grow to a height of around 15 to 49 feet. Both are relatively easy to establish.  Dogwoods and dwarf magnolias meanwhile, are great as standalone yard features.
"Smoke trees are soft and whimsical," Starkey adds. "I always look for species that will thrive but also match our property aesthetic."
Stay away from a few specific species.
Starkey says to avoid trees that are messy, even if they look great and are easy to care for.  "Some messy trees include sycamores, which have beautiful bark but it also exfoliates and can be an issue; sweet gums, which have beautiful fall color but fruit that can be a maintenance headache; and crepe myrtles which have interesting and beautiful flowers and bark but are also messy," he explains.
Note sunlight levels and the soil.
The most critical things for new homeowners to consider when selecting plants are sunlight and soil conditions.  
"The amount of sun and the quality and moisture contained within the soil should influence plant selections more than anything else," Starkey says. 
Homeowners should also be aware of and avoid planting invasive species that are not native or native-adapted, such as wisteria and English ivy. "Beyond the practical, selecting your new tree comes down to preferences for color, fragrances, and the more aesthetic qualities of plants," he says.  "Homeowners should have some idea of the maintenance required to keep plants healthy before they commit. I encourage homeowners to consider pollinator plants as well as ornamental and native grasses as part of their landscape."