You'd Never Guess This Tile Is Made Out of Fish Scales
We
independently
select these products—if you buy from one of our links, we may earn a commission. All prices were accurate at the time of publishing.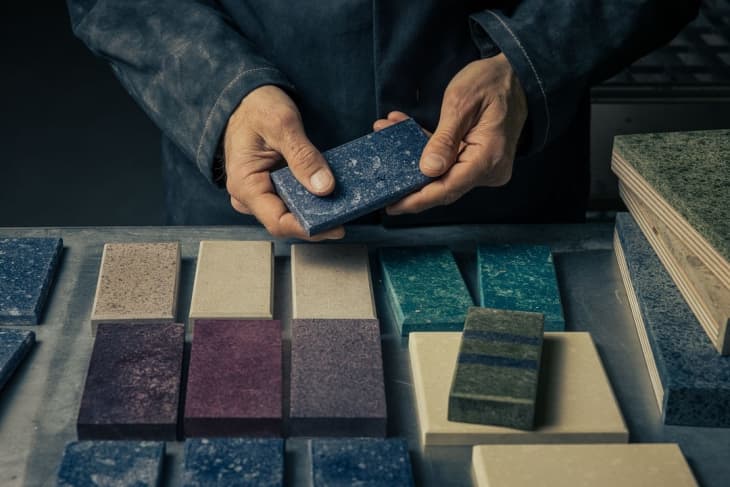 Creating new building materials from waste products is becoming an increasingly popular practice for furnishing companies. And one such company has done just that with the most interesting waste product many have likely never considered: fish scales.
Scalite is a brand-new tile material from French company Scale and it's made entirely from fish scales, a byproduct of the fishing industry. Scalite looks shockingly similar to stone and can replace ceramic tiles in kitchens, wall coverings, and furniture accessories.
Because fish scales contain the natural biopolymer collagen, no added material is needed to hold the material together.
Inventor Erik de Laurens created Scalite in response to the shutdown of several factories in the French Basque Region, which threatened industry knowledge about how to create traditional tiles. After some experimentation, Laurens found that collagen from fish scales can be extracted and used to bind together the mineral components of the scales to create a totally ocean-friendly tile.
Scalite is available in a range of six colors that are created using natural dyes and can be cut with traditional circular saws or CNC machines. To install Scalite, simply bond it to a cement board or piece of plywood and apply a surface coating if it will be coming in contact with water. Because it needs a waterproofing sealant, Scale recommends using Scalite for projects like kitchen backsplashes and wall tiles rather than bathroom floors to keep the overall result more sustainable and low maintenance.
Not only can you make your home that much more sustainable using these fish scale tiles, but you'll also be installing an instant conversation starter.