The Gift That Changed My Life So Much, I Bought It for 10 of My Friends
We
independently
select these products—if you buy from one of our links, we may earn a commission. All prices were accurate at the time of publishing.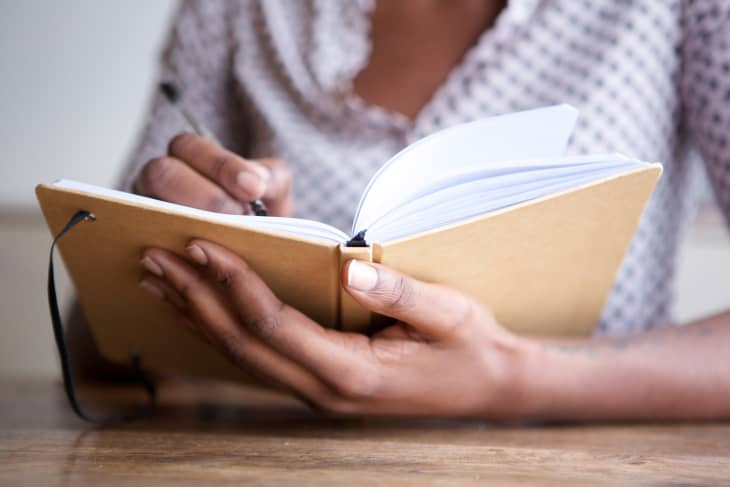 Since I was a young girl, I've always loved keeping track of my thoughts. I adored collecting stationery and some years I'd be methodical about journaling, while other times I'd abandon the practice entirely. It wasn't until about 12 years ago that I found a journal that finally kept me consistent with my entries. The bonus factor with this particular journal — a five-year journal — is it helped me track what I was doing on the same date two or three years ago. I started noticing patterns and it pushed me to either stop complaining or take action on what was bothering me. 
Writing in this five-year journal became so empowering, I knew all my friends had to have it too. On a recent girls' trip I made an announcement about how this journal changed my life so much that I wanted to give it to them too. 
Here are six reasons why I find this journal is empowering and the perfect gift for a good friend: 
Having just a few lines helps me be consistent.
There are about five lines per entry in the five-year journal. It's enough space to jot memorable moments, but not enough to overwhelm. It's less intimidating because you don't have the pressure to fill up an entire page. You can start at any time, too, since you're responsible for filling in the date and the year. 
It's an automatic tracker of the same day over multiple years.
I love my five-year journal because I can look at the same day and track exactly what I did on that particular date going back several years. I don't have to hunt through pages and pages of entries over several journals — it's all there on one page. Often, I will reach for my journal to see how I commemorate a special milestone in a loved one's life or make note of a feeling on a particular day. 
It helps to identify patterns.
Looking at the journal as a continuum allows me to identify various patterns in my life. I can review what I've jotted down and start to notice certain thoughts and reflections that keep popping up over and over. It may push me to make a change or at least caution me to be aware that I am perseverating over the same thought or circustmastce. By reading my entries, it pushes me toward accountability. 
I have the opportunity to be methodical about the future 
The five-year journal allows me to make goals. It can be a personal, professional, or self-care goal that I can track from one year to the next. It is a chance to be reflective and determine what small steps I am taking to achieve a particular goal. 
It cultivates a healthy sense of gratitude. 
Like most people, I have good and bad days and my five-year journal is a reminder to sink into my good moments. When I read a past entry with a celebratory tone, I immediately feel gratitude for experiencing a moment that will stay with me. Reviewing my journal also gives me a sense of resilience — knowing that I've survived bad moments offers a feeling of strength. 
Having a written record of the same date over several years helps me to sink into perspective. Especially during tough moments, I can see where I've overcome difficult times and persevered. This journal keeps refining my perspective and prevents me from being too attached to sadder moments. 
I wanted my friends to have this same sense of perspective and resilience and often, I've heard some of them say that writing in a journal requires too much time or continuous commitment. With this journal, there wasn't any pressure to come up with a perfect entry, but it is a way to catalog days, show where you spent your time, and note what is worth remembering. After a few months, some of my friends have already seen a change in their behavior because they were reminded of patterns they wanted to break. More than just a writing tool, a five-year journal is a way to reflect and contemplate change. 
This piece is part of Transformation Month, where we're showing off amazing home makeovers, brilliant tiny tweaks, inspiring before & afters, and so much more. Head on over here to see it all!