The $8 Fix You Need to Make Before Listing Your Home for Sale
We
independently
select these products—if you buy from one of our links, we may earn a commission. All prices were accurate at the time of publishing.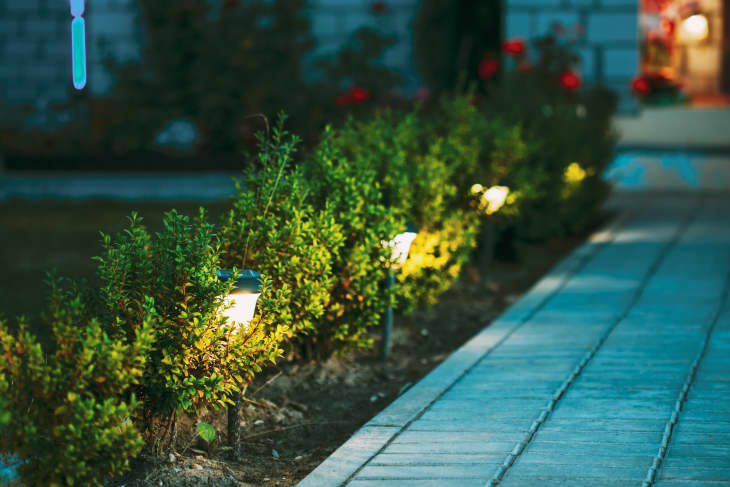 It takes about two weeks to a month to get a home ready for sale. As you go room by room and identify the areas that require the most attention, dingy carpeting and lackluster living room decor tend to take priority. Most homeowners don't consider their exterior lighting when prepping their homes for sale, but good lighting makes a world of difference.
One often-overlooked aspect of a home's exterior is its lighting; new lightbulbs can help create a positive first impression for potential buyers. Here's how an $8 fix, like this bulb from 1000bulbs.com, can help make a house look its best before a sale.
A new exterior light boosts your home's curb appeal.
In real estate, first impressions can make or break a sale. Some prospective buyers will often make a decision about whether they're interested in a property based on its curb appeal alone. "If a prospective buyer is taking a ride by at night, the house can possibly show better when it is illuminated with the proper lighting," says Ron Resha, a home flipper and real estate agent with 25 years of experience at Coldwell Banker Realty in Canton, Massachusetts.
Jon Sanborn, a Realtor and cofounder of SD House Guys in San Diego, also adds that exterior lighting helps to create a warm and welcoming atmosphere for potential home buyers. "It gives your home a cozy, well-maintained look that can attract more people to your property. Bright new light bulbs will ensure that the exterior of your house looks its best when it is being listed on the market."
You'll get better-quality photos.
Most real estate agents rely on high-quality photos to make their listings stand out, and Sanborn says that the home's exterior lighting should be bright and clear. "New bulbs will give a crisp light that will make it easier for prospective buyers to visualize themselves living in the space," he explains.
All exterior bulbs should be the same tone. If some are LED, for example, all of them should be LED. Mixing different tones can look funny, according to the experts. 
You might get a higher sales price.
Cam Dowski, founder of WeBuyHousesChicago, claims that new external lightbulbs can increase your home's sale price by a minimum of 20 percent. "I have noticed over the years that homebuyers are generally more inclined to go for a home with external light bulbs than one without them," Dowski adds.
"When people purchase a home, they want to know that the home is a safe zone that will prevent unnecessary safety concerns and, by implication, lawsuits," explains Dowski. Slip and fall accidents due to poor exterior lighting can be the cause of legal liability. This may be a concern when showing your home to potential buyers.
"External lightbulbs also serve to deter criminal activity around the property," Dowski adds. "Criminals are more likely to carry out criminal activity around a home that is poorly lit."
A home burglary occurs every 28.3 seconds, according to FBI crime data. Open houses are often targeted by thieves, but bright exterior lighting may make them think twice before coming back to break in at night.