4 Must-Know Tips for Flipping Thrifted Furniture, According to Seasoned DIYers
We
independently
select these products—if you buy from one of our links, we may earn a commission. All prices were accurate at the time of publishing.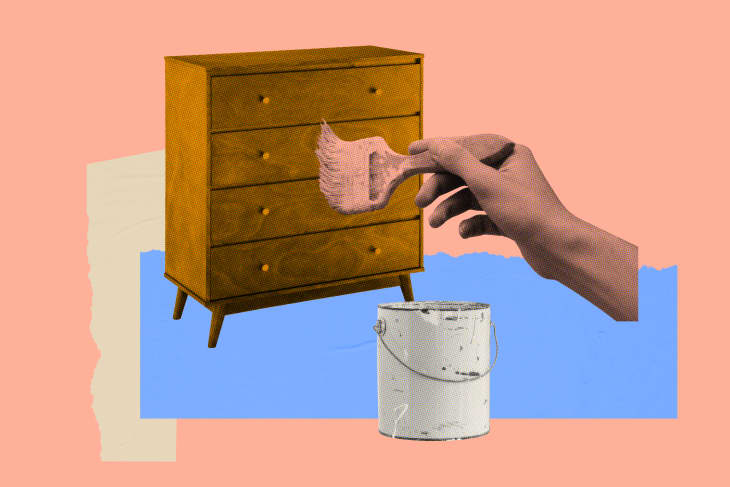 Thrifting is all about seeing potential where others might see, well, trash. "Our furniture flipping really began at the onset of the pandemic," says Lindsey Dobson, who shares the Instagram and TikTok account Florida Flipsters with her husband Tyler Dobson. "We were going on more walks and were shocked by how many pieces of furniture we saw being trashed within our neighborhood."
Once the couple saw all of the different items being discarded — like dressers, nightstands, and chairs — they worked on refurbishing them for their own home before selling their updated pieces for a profit. It's a story Marissa Godinez of Miss Flipps knows well, since she also started this process about two years ago. "I found furniture flipping when I fell down a YouTube rabbit hole of home renovations, and thought to myself, 'I could do this,'" she says. As more and more people recognize the creative outlet of upcycling furniture, and there seems to be an endless supply on curbs and consignment stores, you also may be among those who see possibilities rather than dead ends. And besides it being a hobby or a hustle, doing so can have the benefit of being good for the environment, too. 
"It's easy to view a damaged piece of furniture as a lost cause and toss it, but I believe it's our responsibility to steward our resources and reuse as many things as possible," Lydia Abigail of Recycled and Restored Vintage Furniture adds. 
So if you were to be as resourceful as these thrifters, what do you need to know to join in? "I always encourage people to try it," says Christina Clericuzio of Flip Daddy on Instagram and TikTok, who also got into this when pandemic lockdowns began. "I've loved it from the start and have a lot of fun making tutorials, too." Here, these upcyclers share the tricks of the thrifting trade, from how to choose an item to perfecting ways to make projects successful. Follow along to learn from their success.
Pick a piece of furniture with potential.
While picking out furniture always comes down to personal taste, there are some details to keep in mind when your goal is to make something look like new. "A piece that is made of solid wood is always a great go-to," Tyler Dobson says. "It's easier to work with in terms of sanding down, and gives you options to either re-stain or paint it. You can usually tell that a piece of furniture is solid wood if the drawers are dovetailed." Clericuzio will find most of her solid-wood projects on the side of the road in warmer months, and at thrift stores year-round. "I won't pay more than $15 for a piece of furniture," she notes. 
Tyler and Lindsey also recommend seeking out trendier items if your goal is to fix furniture up for a profit. The trendiest pieces tend to be mid-century, of course, although bohemian pieces with rattan details tend to do well, too. But before you get to work, be sure to double-check that the piece you'd like to work with is truly vintage or not. If it is vintage, restoring it is often a better bet then completely reimagining it.
"Unfortunately, many people may use vintage pieces to upcycle, and can damage an otherwise valuable piece," Abigail says. "I found a Broyhill Brasilia mid-century modern desk a few years ago, but someone who upcycled it caused tons of damage, some of which I wasn't able to fully repair. They unknowingly took a piece worth thousands of dollars, and made it worth only $60. It was sad to see, but a good lesson as to valuing vintage furniture. Always do your research!"
If you have a piece that you'd like to paint, the first thing you need to do is clean it thoroughly. The Dobsons recommend nothing more than water, a rag, and Dawn dish soap. Then, give the surface a light and even sanding so that your coats of paint can adhere properly, and brush off the piece once more for a smooth surface.
You'll most likely want to begin with a primer, and after that coat has completely dried, apply two coats of paint. Godinez notes that this is the typical process for most items, but it really all depends on the furniture's finish and the chosen paint. "You can also get a no-sand primer to put on your piece before brushing on your desired paint," she says. "However, this all depends on what kind of paint you are using. Most chalky paints can go onto a piece without primer, in which case, you can just give it a scuff-sand and you're good to go."
Staining a piece, as another option, can be more complicated — so it's probably better to save it for when you have some experience. "If you have to remove paint or repair damages, the process can be quite a lot," Godinez says. "The most important step, in my opinion, is figuring out if your piece is solid wood, veneer, or particle board. Particle or pressed board is usually best to paint unless it has veneer on it. Solid wood is more forgiving because you can sand away any scratches or dents without worrying about piercing through the veneer." 
She recommends taking your time if you're sanding veneer so as to avoid accidentally working your way through. If you do need to remove paint, Godinez recommends using a citrus-strip paint stripper before cleaning off the excess. Then, go in with the stain. "Wipe on your stain with a sponge brush, paper towel, or old t-shirt," Godinez says. "Once it's dry and you have the desired color, a top coat is necessary. Wax is great, but there's also lacquer, polyurethane, or finishing oils."
Repair chips and cracks when necessary.
Old furniture will often be past its prime, whether you've discovered it in a relative's basement, at a store, or on the street. But don't discount an item from getting overhauled if it's covered in scraps and nicks. With a sander, some elbow grease, and a little effort, you'll likely be able to clear most of those issues from the surface.
"Our best advice is to first sand the piece all the way down," Lindsey says. "You can then use the saw dust and mix it with some wood putty to help naturally fill in the cracks and chips. If there is a lot of filling that needs to be done, we typically will fill the cracks and finish the piece with a fresh coat of paint." For a sealer, the Dobsons prefer Minwax Polycrylic Water Based Protective Finish, and if they want to restore an existing grain, they like Howard's Restor-A-Finish along with a conditioning coat of Feed 'n' Wax. 
For yet another choice to consider, Abigail recommends a wood epoxy that she uses to fill any imperfections. She sands it down after it's dry, and then brushes the stain back on using a gel that matches the surrounding wood. "It will take a few coats, and maybe some trial and error, but once it's blended in with the wood grain, you can add a sealant," she says. "For larger chips in veneer, I buy long veneer strips and reapply a new strip using a heat-activated adhesive." After she's applied the adhesive, the surface can be sealed and stained as part of the overall piece. 
Remember that reupholstery is a whole different ball game.
It's a good idea to work on wood or veneer pieces for their relative ease, since reupholstering furniture is a different skill set. You may be able to take the skirt off a chair with pliers and change its legs — if you want to try a quick and relatively simple project — but anything more involved might need outside help. The Dobsons mostly stick to wood furniture, and so does Clericuzio, although she'd like to learn one day. 
"I've taken on a few upholstered projects, but I always suggest taking the pieces to pros when dealing with large damage areas," Abigail says, echoing the others. "I own a simple upholstery cleaning machine, and then I always spray pieces down with white vinegar or bed bug spray as precaution. If I know I won't be able to properly fix an upholstered project, I'll take it to a local company."
Bottom line: Go ahead and try your hand at redoing a thrifted item, and build your knowledge over time. "Fixing used or vintage pieces has totally changed how I look at design," Abigail continues. "I'm able to fully express myself and find fun things that bring joy to my space. I'm always telling people to ditch new furniture, because vintage or used pieces are typically better quality, less expensive, and make a home look so unique!"
This post is part of our Thrifting Package, a celebration of all things secondhand. Head over here to read more about everything from how to restore a thrifted item to the best thrift shops in the U.S.