If You Aren't Fluffing and Rotating Your Sofa Cushions, Your Living Room Is Missing Out
We independently select these products—if you buy from one of our links, we may earn a commission. All prices were accurate at the time of publishing.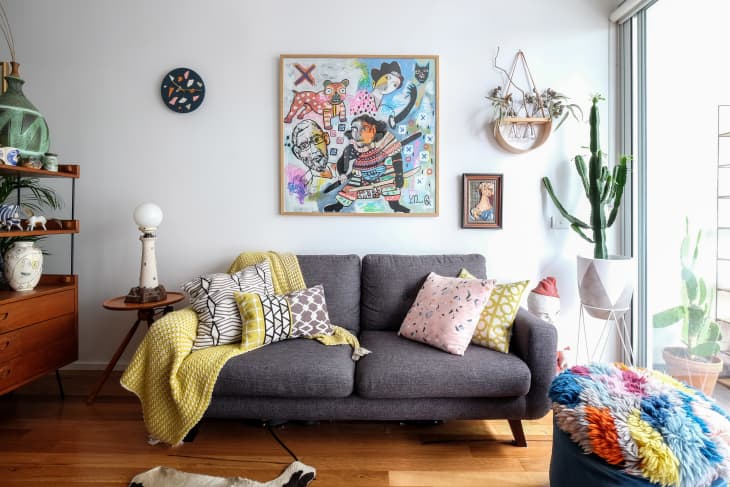 A new year is a great time for giving your home a style refresh. That doesn't have to mean buying all new items, though; in fact, you can reinvent your home without spending a lot. Start by decluttering or rearranging furniture to come up with a more functional layout. Another quick and satisfying refresh? Fluffing and rotating your couch cushions — and truthfully, this is something you should be doing fairly regularly to keep your sofa looking its best for as long as possible, anyway.
Follow Topics for more like this
Follow for more stories like this
Flipping and fluffing your cushions looks nice, but it's not just all for show. First and foremost, the flip and fluff, as Apartment Therapy has called it before, saves money. Regular fluffing preserves the integrity and shape of a couch, meaning it'll last longer and be more valuable if you ever want to re-sell it. Flipping and fluffing can also up the comfort factor of your couch, since it prevents lumps, bumps, and compressions from occurring in random spots. Finally, regularly fluffing and rotating your cushions extracts dust, dirt, and dander from their fill, and it also provides you the opportunity to vacuum up debris in between and underneath cushions. The best part: Flipping and fluffing can be done in under 15 minutes, and you'll instantly notice a difference — think of it like a facial for your couch.
For best results, set a reminder on your phone or calendar to flip and fluff regularly. How regularly? Well, that can really differ. I asked a few furniture experts for some baseline recommendations.
"The general guidance for keeping your sofa in great shape is giving your sofa cushions a quick once-over every two weeks," says Lisa Beach, a design specialist at BenchMade Modern, a custom furniture company. According to Beach, this bi-weekly flip and fluff includes smacking the back pillows to restore the loft of the fibers and flipping all cushions where possible. If your couch is at the epicenter of your home (read: Family and pets spend a lot of time on this piece of furniture), then you may want to increase the frequency of this practice. Beyond flipping and fluffing, Beach says a monthly vacuum will help preserve the quality of your sofa's fabric. Dust and dander can settle into the fibers, so you want to do your best to prevent that from happening.
When it comes to fluffing in particular, there's no exact science. Consistency is perhaps the most important aspect. The only way to go wrong here, Beach says, is by ignoring a stain you may find during this process and simply flipping the cushion to hide it. You want to spot clean and treat any marks you find as soon as you see them. No matter the kind of fill your couch has, Beach says the fluffing process is the same. "Smack, roll, flip, rotate," she says. However, even though the general recommendation for this is bi-weekly, the type of cushion fill can effect frequency. Foam cushions, for example, will need more flipping and rotating to dissuade lumpy, uneven compression. Down or feather-fill couches will be more about the fluff. 
As you fluff, remember the goal is to add air back between your cushion fibers. The best way to do that? Let out your past year frustrations on your couch. I'm joking… but also not joking. Fluffing can take many forms — shake, chop, punch, and squish your cushions from all sides. If you have a fancy carpet beater, you can even use that, too! Just make the time to fluff and rotate bi-weekly or even monthly, and I promise, you'll see the benefits.