Right Now on Apartment Therapy: Follow 6 People As They Tackle Real 2017 Resolutions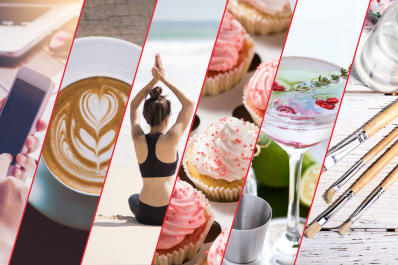 (Image credit: Shutterstock)
If the calendar had subtitles, January's would be "The month of reinvention." New Year's Resolutions are top of mind for everyone, and the ripples are showing everywhere—from our Facebook feeds to the newly crowded gyms. The new year promises a chance to start fresh with whatever you've been struggling with. Because that's the thing, isn't it? We all have areas where we'd like to improve.
I shouldn't have to tell you, then, that it was easy to find six people willing to share their resolutions with us in a really big way. When I shared the scope of this project—we wanted real people to document their struggles sticking with a one-month resolution challenge of their choosing—several familiar faces from the Apartment Therapy contributors pool stepped up to say that they'd like to share their stories with readers.
There's Caroline Biggs, who is kicking off the year by making a point to be present and sign out of social media, and Candace Bryan and Anne Momber, who each want to experiment with changes to their diet—cutting out caffeine and sugar, respectively—to test if they see marked improvements in their overall wellness. The always-mindful Jessica Estrada is going to see if she can stick to a habit of meditating every day to "basically learn how to take a chill pill," and Kenya Foy is taking on another habit (painting) as a treatment for her cold-weather, seasonal blues. And then there's Chris Phillips, our VP of Sales Development and a Dryuary veteran, kicking off each year with an alcohol-free month as a sort of re-centering reset button.
These six people are taking on lofty goals. They're challenging themselves to break (or begin!) habits for the first month of the year in an effort to jump start their health and happiness in 2017. And you can follow along with all of it: Each of our writers is going to be taking notes and giving progress reports—one mid-way through the month, and one at the end of January—to share their successes and their struggles.
But first, click the titles below to read their kick-off posts, where each writer shares their thoughts on the challenge, including where they've been, and where they hope to be going in 2017...
I want to see how giving up caffeine might affect my health and, hopefully, make it so that I don't wake up in the morning feeling so depleted.
---
For the next thirty days, I'm taking a break from Facebook, Instagram, Twitter and Snapchat to determine what exactly they're doing for (and to) me.
---
Mediation is, as I've been told many times by my therapist, an anxiety antidote—a.k.a. the solution to all of my problems, hopefully.
---
I'm ready to try Dryuary again this year. I am interested to see if my sleep improves and if I can lose a few pounds.
---
I'm really hoping for a couple things. First, to get a better handle on and awareness of my relationship with sugar and the way it impacts my body. Second, boundless energy.
---
Every year I have to think of new methods of coping for the times when my tried-and-true tools prove unsuccessful.