Frank Lloyd Wright's Fabric Designs from the '50s Are Available Again
Good news, FLW fans: Schumacher has re-released the starchitect's fabric designs in honor of Wright's upcoming 150th birthday.
Frank Lloyd Wright's collection with the 19th century fabric brand originally debuted in 1955, after former House Beautiful editor Elizabeth Gordon encouraged the architect to start a line for those who didn't live in his houses.
According to Wallpaper, after Dara Caponigro joined Schumacher as creative director in 2013, she found remnants of the collection and decided to reach out to the Wright Foundation. "It became clear it was a very important collection that had the imprint of one of the most — probably the most – important American architect," she told the publication.
The collection originally included 26 geometric fabrics, which all make an appearance in the re-release. But through the renewed collaboration with his foundation, there are a few new ones that have been created based on Wright's drawings and patterns, bringing the total up to 40.
Some other tweaks have been made as well. "The colors that were used for the original collection speak to that time," Caponigro said. "But the designs themselves are completely transcendent, so pure, and timeless."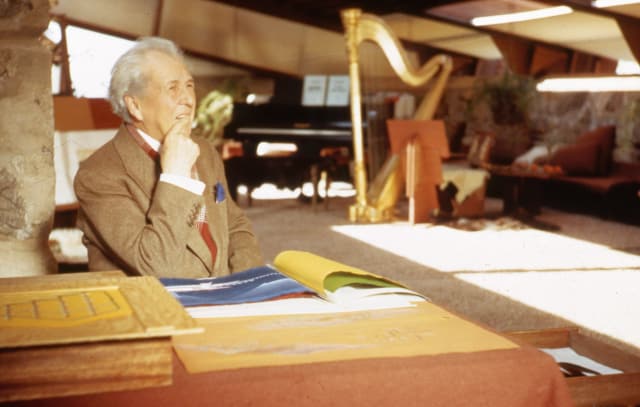 (Image credit: FLW Foundation / Facebook)
The fabrics celebrate the architect's upcoming 150th birthday on June 8, though it's not the only tribute to the Usonian master going on this year. MoMA is planning an exhibit that will feature more than 450 items including drawings, furniture, models, and scrapbooks spanning his life. And of course, the Frank Lloyd Wright Trust has a plethora events planned, including talks, walks, and open houses.
The Applied Architecture collection is currently available to the trade via Schumacher.
h/t Elle Decor