I Thought Shag Rugs Were Impossible to Keep Clean — Until I Found This Ridiculously Soft, Washable One
We independently select these products—if you buy from one of our links, we may earn a commission. All prices were accurate at the time of publishing.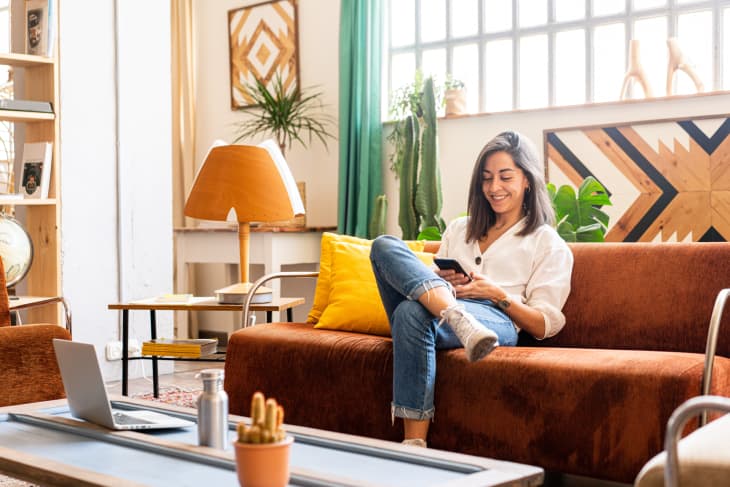 If you're looking for a space-saving method for adding personality to your home, I highly recommend incorporating a rug that lets your style shine. For me, the more interesting a floor piece is to look at, the more I'm drawn to it, so it's not a huge surprise that I LOVE shag rugs. That said, it took me quite a while to get one because I worried about keeping it looking great without splurging on a professional cleaner. So when I discovered that there's a shag rug that can be cleaned at home in the washing machine, I had to get my hands on one to try it out for myself. Meet the colorfully dynamic shag rug from Wayfair that made our Best List for washable area rugs.
Let me be the first to say that the pictures of the Frates Tie-Dye Area Rug online do not do this beauty justice. The mix of bold and gentle shades of pink, purple, blue, and yellow set against a light pink base gives it a playful vibe that livens up a room. The polyester rug has pink piping that goes all the way around and beautifully integrates with the abstract design. It's thin enough to layer with a rug pad for extra cushioning, but if you don't have one, it has a wear-resistant, anti-skid bottom. And it's as soft as a cloud! I even find myself laying on top of it when I need a bit of cozy comfort.
I have the 5' x 8' Frates Pink and Purple Shag Rug, and despite its size, the rug isn't bulky at all. It's easy to roll, fold, or crumple without causing it to have lasting wrinkles, and it doesn't shed! With a pil height of 1.77″, I've combed my fingers through it multiple times (it's so soft, it's hard to resist), and it feels like brushing my hands through downy blades of grass. (For reference, I've dropped a quarter on the rug and forgotten it was there for over a week.) I'm so in love with this rug that I don't even walk over it in my slippers, let alone my outside shoes — it's for socks and bare feet only!
When it comes to cleaning this colorful shag rug, the process couldn't be easier. Just spot-clean it with mild detergent (don't vacuum!) or put it into a washing machine. I wash mine on a gentle cycle and then let it air dry. A word of caution: Keep it away from the dryer because the fibers will lose their softness and shrink to resemble matted fur.
The Frates Shag Pink and Purple Area Rug comes in three sizes: 2' x 3', 3' x 5', and 5' x 8'. If you love vibrant color as much as I do, it might just be the perfect pick for your space. The living room, dorm room, or kids' bedroom are obvious choices for this piece (just check out the reviews), but I love the brightness that it brings to my office. And whenever I need a break, I've got the perfect space to kick back for a little R&R!

Buy: Frates Shag Pink and Purple Area Rug 5′ x 8′, $215.99