8 Old-School Gardening Tips from the Father of Landscape Architecture, Frederick Law Olmsted
We
independently
select these products—if you buy from one of our links, we may earn a commission. All prices were accurate at the time of publishing.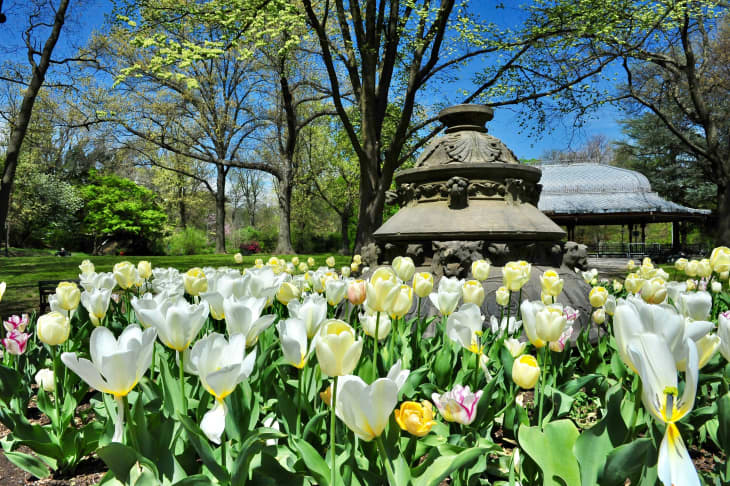 If strolling through a city park has been a rare source of solace for you in the past two months, you can probably thank Frederick Law Olmsted. Born in 1822, America's first and foremost landscape architect was a passionate advocate for truly public parks and the conservation of natural landscapes—at a time when the only real public green space found in most American cities was the local graveyard. 
After partnering with Calvert Vaux to design New York's Central Park in the 1850s, Olmsted and his firm went on to create Prospect Park in Brooklyn, Boston's Emerald Necklace, Montreal's Mount Royal Park, Chicago's Jackson Park, and the grounds of Stanford University and the Biltmore Estate, among other projects. 
While his specialty was creating sprawling natural escapes amidst the chaos of America's fast-growing cities, Olmsted's design philosophy offers lessons for our backyards, too. After all, he applied some of the same principles to his 1.76-acre lot in Brookline, Mass. So if you're looking to turn your yard into a serene retreat from city life, here are some landscaping tips from the founding father of America's urban parks.  
Olmsted was no fan of stick-straight hedges and right angles. Nature flows in curves and waves, and he sought to emulate—as well as enhance—its tousled natural beauty. 
He embraced rolling meadows broken up by irregular clusters of trees, and sought to mimic nature's vastness and mystery by contrasting lush layers of foliage. Using different shapes and shades of green enhanced the effects of sunlight and shadow—chiaroscuro, if you ever took an art history course—and created perspective between foreground features and an indistinct backdrop.
So instead of a square, flat lawn with crisp, straight edging, don't be afraid to add some curves and a variety of plants and groundcover. Layer darker or more vivid shrubs in the foreground and place bigger, blander foliage in the backdrop to make the space seem bigger. 
Use native, low-maintenance plants
Olmsted wasn't strict about using only native plants—in fact, he imported quite a few European species to the U.S. But he at least tried to choose plants that fit their setting, and would thrive in nature's care without excessive maintenance. Most importantly, he avoided using elements that clashed with the local environment, like a tropical flower in upstate New York, or a cool-weather turfgrass in the sun-baked Southwest. 
Use nature like a proverbial fig leaf
Olmsted wanted people to feel immersed in natural settings and be able to reflect without distraction, so he used stone as a building material when possible and camouflaged necessary but unseemly man-made elements with foliage. One of his greatest feats in Central Park was to hide the crosstown traffic traversing Manhattan from the view of park visitors. At his Brookline home, he added trellises so that ivy could climb the exterior walls of the house. 
In your own yard, this might mean using fieldstone for steps or planting shrubs to obscure unsightly air conditioning units, propane tanks, electric meters, your neighbor's shed, or other unnatural elements from your line of sight.  
Whether you're exploring Central Park or wandering outside the Biltmore Estate in Asheville, N.C., a hallmark of Olmsted's landscapes are winding paths that branch off this way and that— over small bridges, along creeks, through meadows, and under leafy canopies. The effect is tranquil and mesmerizing, and allows you to get lost in the landscape—while knowing you're not really lost, because all the paths eventually meander back into one another. 
Even in the relatively small yard of his Brookline home and office, Olmsted created a winding gravel footpath—complete with a bench—that beckons one to take a stroll. When most of us think about laying a stone path in our yard, it's often to get from one place to another: From the deck to the shed, from the driveway to the front door. But maybe a path doesn't have to go anywhere at all. 
Surprisingly, Olmsted didn't like the concept of "gardening" and frowned upon showy flowers or prized specimens that called too much attention to themselves. Just as he wanted his parks to be enjoyed by all social classes, he valued an egalitarian landscape that worked in harmony. 
On one occasion, he noted that while a bright hybrid flower in a glass vase may capture our immediate attention, a common wildflower in a grassy meadow may touch us more deeply and have a more soothing influence—though we're barely aware of seeing it, as it's just one piece in a greater pastoral portrait. 
While a stately tree or favored fall bloomer can certainly serve as an anchor for your larger landscape, Olmsted believed each element in a design should, more importantly, be part of the greater, cohesive whole—to be taken in all together, and not as individual pieces. 
Remember that function matters
Olmsted valued function over form. "Service must precede art," Olmsted wrote. "So long as considerations of utility are neglected or overridden by considerations of ornament, there will be no true art." 
Nature offers us so many useful creations. Use them. If your basement experiences water seepage, maybe your soil could benefit from some beautiful but thirsty plants, like winterberry or tatarian dogwood. If you like to cook with fresh ingredients, then don't waste time with pretty flowers—plant some chives, rosemary, or a full vegetable garden. If your living room roasts in the summer sun, maybe it's worth planting some deciduous shade trees. 
Know that it's never too late
Maybe you've never pruned a plant in your life; maybe you're not sure what pruning even means. Maybe you've lived in your home for five years or more, and have never once done anything to the yard. It doesn't matter: It's never too late to start. 
The most famed landscape architect in American history didn't design a park until the age of 35, and didn't commit to the profession until age 43 — at a time when the average American male could only expect to live until about 40. After a short stint as a surveyor, Olmsted nearly died of scurvy sailing to China as a deckhand, ran a farm for six years without ever turning a profit, and reported on the Confederate South for the New York Times. Then he and Vaux designed one of the greatest public parks the world has ever seen. 
Like the best gardeners, Olmsted was patient, and understood that his landscapes would take time (lots of time) to fully mature into masterpieces. He planted a hemlock tree in the carriageway of his Brookline home and office the same year he bought the place, knowing it would be a decades-long wait for the desired effect: An imposing centerpiece that anchors the estate's entryway. 
He also understood that people need more immediate payoff. As they churned the soil of Central Park in 1858, he and Vaux made sure to have at least one major feature ready for the public at the end of the first year: The Lake, which people could skate on, allowing them to enjoy the new park even in winter.  
It will take years before this season's saplings cast summer shade or grow boughs big enough for kids to climb. And it's worth the wait. But you also deserve something to enjoy now, whether it's a whimsical stone path, some berries to pick, or a tranquil spot to sit or entertain.