5 Free Organizing Hacks That Will Transform Your Living Room
We independently select these products—if you buy from one of our links, we may earn a commission. All prices were accurate at the time of publishing.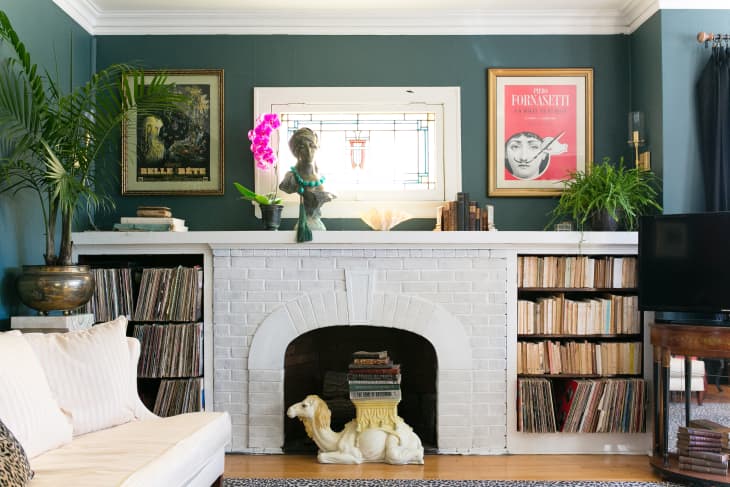 Living rooms are a big part of what makes up a home. It's where you go to connect and re-charge; it's a space that you can sink into and wrap yourself up in — so long as you keep it in order. After all, it's much easier to relax in a space that's not screaming to be cleaned up.
Follow Topics for more like this
Follow for more stories like this
Here are some no-cost ways to transform your living room into an organized oasis so that it's ready and waiting to welcome you with open arms — like it's made to.
I know, I know: This book organization style isn't for everyone. But I did it years ago and it still gives me a thrill every single time I catch a glimpse of it, so why not give it a try if you haven't already? Organizing books by color is soothing to the eye, and that's the litmus test of any organizing effort. We have built-in bookshelves around our fireplace and I put our library in rainbow order. This turned a utilitarian area of the living room into a still useful but aesthetically delightful space that makes the whole room simultaneously cheery and relaxing. Oh, and if you're worried you won't be able to put your hands on the book you're looking for, you'll be surprised how well your brain remembers what color each of your books is!
Stop Folding Your Blankets
Yes, a neatly folded blanket spread just so over the corner or back of the couch looks put together. But how many times is that blanket left in a jumble on the couch or the floor? How many times do you end up folding it, grumbling because you're the only one who seems to care?
Take this frustration out of your life by adding a large basket somewhere on the floor in your living room. Or, if you don't have a basket you can repurpose from somewhere else in the house, stash blankets in a less decorative receptacle (like a plastic bin without a lid) on the floor of a nearby closet or even just in an empty space inside a cabinet.
Trust me, your household is far more likely to toss blankets where they go when folding is removed from the equation, and the same result is achieved: blankets that are put away.
You know what's not relaxing? A search party for the remote when you want to sit down and veg. The solution? Shop your house for an unused tray and bring it into your living room for a remote control landing pad.
A small tray solves a bunch of your remote control problems. Having a designated place for items, especially items that tend to "roam," like remote controls, means they are far more likely to be put away and found where they're supposed to be. And, as always, being contained lends an air of tidiness that isn't there when items are just set on surfaces.
Throw pillows can make your living room feel cozy, but they can also make it feel cluttered. My suggestion? Keep the ones that you and your household use regularly for comfort and remove the ones that are purely decorative. This way, you have fewer pillows out of place when it comes time to reset the living room and your pillows are far more likely to be where they're supposed to be. It may take a bit to get used to the more minimal look, but you'll quickly appreciate the ease of keeping your couch nice and neat.
Take Absolutely Everything Out
This one is drastic and takes some time, but the payoff is big. Set aside the better part of a day and take everything out of the room. Take out all the furniture and the rug, remove pictures from the wall, take decorative items off bookshelves, etc. Let the room breathe. Then slowly add items back in, only as needed. You might be surprised how many unnecessary items were cluttering up your space. Donate whatever you choose to keep out of your quiet, calm, pared-down space.