This Stylish (But Polarizing!) Paint Project Is the Next Evolution of the Painted Arch
We
independently
select these products—if you buy from one of our links, we may earn a commission. All prices were accurate at the time of publishing.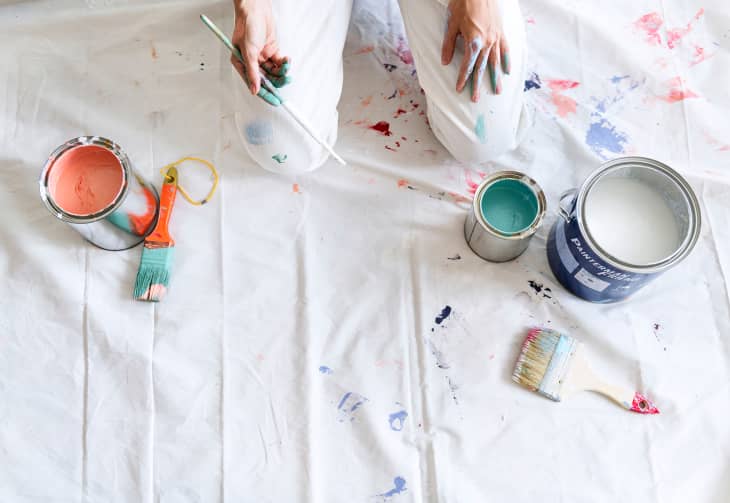 Adding personality to a space, by nature, requires some ingenuity. A gallery wall, a pod of plants, or built-in bookshelves all need a lot of planning, which is why easier solutions are always welcome. Last year was all about the easy and low-time-commitment painted arch — and while it's still a project that's worth taking on, you might be looking for something even simpler.
Juliane and Andre, a German couple fixing up their home on @homeheartmade, posted a TikTok of what may be the simplest paint solution you've seen yet: the freehanded painted accent.
In the video, Juliane can be seen painting a taupe-colored rectangle on a white wall with a small roller and a few tools resting at her feet. She doesn't seem to be worrying about clean lines or sharp corners, since tape is nowhere to be found. In fact, she leaves the raw finish of her rolling work as is, with the various stops-and-starts clearly visible where the white paint meets the taupe. From there, Juliane layers art on top and hangs a mirror beside it, and then places a round table and bench below. She even has a light shining on the accent alongside the art.
OK, OK, this decor might not be for everyone. Those who like things super crisp and neat might find their eyes twitching every time they walk past the un-manicured edges of this painted accent. But if you want to try it, the key to pulling it off like Juliane is to keep things basic. Choose a small space and a single color, and go for a (roughly) simple shape like a square, rectangle, or even a circle — it will help the edges seem purposeful and not just sloppy. You might even use a pencil to lightly outline your shape to use as a reference. Then, make sure that you're varying your roller's direction during the project so that you don't wind up with points going all the same way.
Think of the freehand accent wall as the more straightforward alternative to painted arches, which typically need rulers, string, and pencil to complete. This project is also faster and more budget-friendly than painting the entire wall, too. Sure, this look is not for everyone, particularly those who gravitate toward symmetry and order. But the good news is one, it will take less than an hour to pull off, and two, it's just paint. If you aren't happy with the results, it's easy to paint over later.
So if you're open to trying something new, why not take inspiration from someone who's making her home totally her own, and paint outside the lines a little?