These 5 Friends in Austin Bought a House Together (And You Can, Too)
We independently select these products—if you buy from one of our links, we may earn a commission. All prices were accurate at the time of publishing.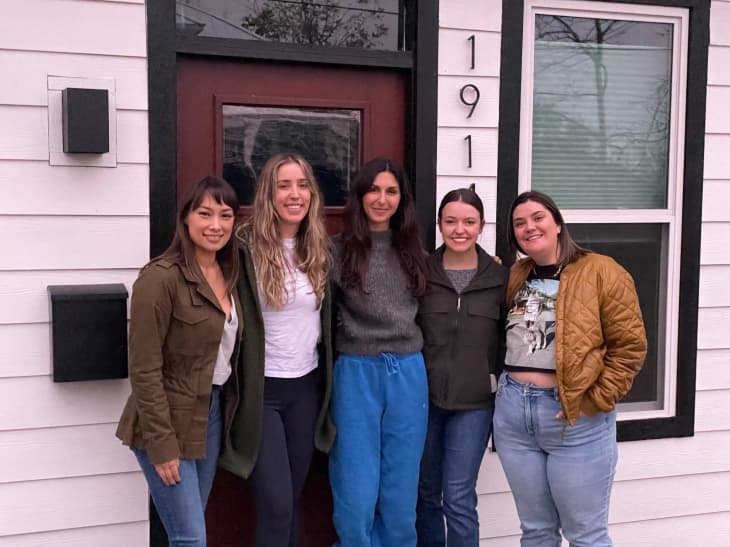 Picture this: It was the start of the pandemic lockdowns. The nation was collectively binge watching "Tiger King," baking banana bread, and worrying about toilet paper. And at one point — if you were single — someone in your group text probably floated the idea of everyone chipping in to buy a home together and living happily ever after in a quarantine pod. 
Follow Topics for more like this
Follow for more stories like this
But then interest rates started falling to record lows, inventory became squeezed, and the shortage du jour shifted from TP to homes. That quarantine fantasy of buying homes with friends? It started to come into focus as an unconventional yet savvy way to afford homeownership. 
Proving it could be done, a group of five women purchased a bungalow in Austin (where the real estate market is notoriously hot) and they posted about their experience on TikTok, fielding lots of questions from others interested in the same strategy. While only two of the women are on the loan, they set up an LLC and all have varying stakes of ownership, ranging from 9.5 percent to 37 percent, depending on how much cash they brought to the table. They rent out a tiny house that they spruced up in the backyard to cover the mortgage.
"I feel like I've always had to be creative to buy real estate — but now more so than ever," says Kristina Modares, one of the buyers and the co-founder of Open House Austin, which is a resource for first-time homebuyers. Her company teaches buyers how to apply creative strategies like house hacking, partnerships, and first-time buyer programs. Modares has lots of experience with this: All five properties she's purchased have been through partnerships, including one with her sister and others with friends.
Today's first-time homebuyers indeed need to think outside of the box when it comes to buying because they face more hurdles on the path of homeownership compared to past generations — everything from higher loads of student loan debt to getting married later in life, if at all. But the idea of buying with friends looks to be gaining some interest. 
A survey by Realtor.com and HarrisX, found that 31 percent of Americans — and 41 percent of Americans 18 to 34 — have bought a home with someone they aren't married to. Perhaps even more telling: 55 percent of Americans and 68 percent of 18- to 34-year-olds would consider it. 
The women in Austin use their bungalow as a gathering and co-working space. (They each purchased homes as single women prior to this investment). In addition to putting money into the home, they each brought a unique skill set — everything from managing contractors and a budget spreadsheet; finding the property; and being the "certified house mom." 
For her part, Modares said she helped with the demo and joked that she got out of mounting a TV by creating the TikTok video.