The 5 Things Nobody Tells You About Buying a Home as a Single Woman
We
independently
select these products—if you buy from one of our links, we may earn a commission. All prices were accurate at the time of publishing.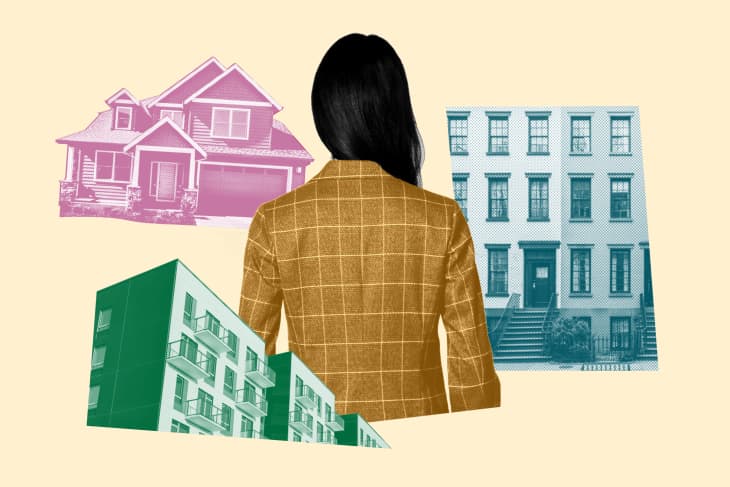 If you're buying a home as a single person, the process may look a little different than if you were purchasing property with a partner. On the plus side, you don't need to consider anyone's wish lists but your own. (Your priority for a spacious backyard isn't competing against a spouse's need for an easy commute.) A potential downside, though, is that you're going through the mortgage process with one qualifying income instead of two, which might mean you won't qualify for as large of a loan. 
Beyond the obvious, if you're a single woman embarking on the homebuying process, you're probably curious about some of the lesser-known nuances that come with taking on a mortgage — and doing so by yourself. 
Historically, single women have been the second largest group of homeowners after married couples. In fact, the share of single female homeowners rose slightly to 19 percent, (and single males held steady at nine percent) over the past three years, according to the 2021 National Association of Realtors Profile of Home Buyers and Sellers. This is pretty spectacular when you consider that it wasn't until the 1970s that women were able to secure credit cards on their own. Then there's that the fact that a pay gap still exists, with women earning 84 percent of what men earn, according to the Pew Research Center. 
As we celebrate women's homeownership during Women's History Month, I asked real estate experts: What are some of the lesser-known things that single women should know about buying a home? Here's what they had to say.
A Future Marriage Could Affect Your Homeownership
So, you're buying a home as a single woman. But let's say down the road you meet someone and get married. When you go to sell, will your spouse need to be included in the sale contract? Or, what if the marriage ends in divorce — does your former spouse get any of the equity that your home acquired? Unfortunately, there's not a universal answer to these questions because every state has different laws (and a few have dower rights intended to protect a spouse who doesn't hold a title), explains Realtor Maggie Wells, who's based in Lexington, Kentucky.
While you may put your own money into a down payment and pay your mortgage on your own for years prior to getting married, it's possible your spouse could have a right to some of the home's equity should you get divorced. In some states, assets acquired by spouses throughout their marriage are considered "community property" regardless of who originally made the purchase. This means your spouse could be entitled to a share of your home's equity if it went up in value during your marriage.
Wells' best advice is to get some guidance from a title attorney (your real estate agent should be able to recommend one) on how a future marriage could affect your homeownership situation. If you aren't comfortable with how your state handles homeownership after marriage, she suggests seeking out an attorney who specializes in marriage law to help mitigate any undesirable outcomes that could come up in the future.
You Should Make Sure You're Properly Insured
A chief advantage that comes with buying a home with a partner is the extra income that's available should one homeowner lose their job, points out Rebecca Awram, mortgage advisor at the Seniors Lending Centre and a member of the Mortgage Brokers Association of British Columbia. "When you are solely responsible, the safety net is a little bit smaller," she says.
Financial experts always recommend having an emergency fund that could cover your expenses for three to six months. But Awram also recommends speaking with your insurance agent about disability or loss-of-job coverage. A mortgage insurance policy would cover your mortgage for a certain amount of time if you get laid off and your unemployment dollars are stretched too thin. It won't, however, cover your bills if you quit your job or are fired for misconduct.
You Don't Need a Huge Down Payment 
Somewhere in your homebuying journey, you may have heard that 20 percent is the gold standard for a down payment. But that's actually a myth — and a quite pervasive one, explains Tenesha Evans, mortgage loan originator at Planet Home Lending. In fact, more than one-third of consumers think they need 16 to 20 percent for a down payment and 10 percent think they need more than 20 percent for a down payment, according to the National Association of Realtors. In reality, the average down payment for first-time buyers has ranged between six and seven percent since 2018, according to NAR.
FHA loans, or Federal Housing Administration loans, allow borrowers to put down just 3.5 percent. You may even be able to purchase a home without a down payment if you qualify for certain loan programs through the USDA or VA, Evans says. Plus, there's a slate of programs out there that can help you shore up the funds for a down payment.
"Ask your lender about down payment assistance, closing cost help, and homebuyer programs run by your state, county, or even your employer," Evans suggests. "There are a lot of programs that provide down payment or closing cost help."
Prioritize Your Comfort Levels
Safety is important for everyone, but particularly for single women, says Cindy Chen, a licensed associate real estate broker with Compass in New York City. 
"As real estate professionals, there are laws that prevent us from advising clients on the safety aspects of a location, area, neighborhood, or building, so it's up to the buyer to do their research and homework in advance of getting too deep into the buying process," Chen says. 
To go about this, Chen recommends buyers research the area, ask questions of neighbors, and look at forums online. She also recommends walking around any neighborhoods you're considering, and doing so at different times of day day and night and on different days of the week. Depending on the mix of offices, restaurants, nightlife venues, and shops, neighborhoods can have a different feel throughout the week, she points out. 
For big city buyers, think about your comfort level in different building types — from those that have video surveillance at the entrance versus those that have a front door staff or concierge, Chen suggests. 
Consider the Resale Value 
When it comes to buying as a single person, there are a few trends that NAR points out: Single female and single male buyers are more likely to purchase a townhouse or condo than couples. Single females — more than any other household composition — cited the convenience of being close to friends and family members as an influencing factor in their neighborhood choice.
When you're zeroing in on where and what type of property to buy, Jodi Dougherty, a real estate broker with Chicago-based Downtown Realty Company, recommends taking resale value into consideration.
"I also counsel buyers to consider how they will manage a major life change, such as a job relocation, marriage or a change in their financial situation, that would necessitate moving," Dougherty says. "Can you hold this property as an investment and rent it? Can you sell it quickly? Understanding all of the options before having to navigate through a major life changing event will set them up for the best financial outcome."