The Loveliest Front Door Paint Colors to Try This Year, According to Real Estate Agents
We independently select these products—if you buy from one of our links, we may earn a commission. All prices were accurate at the time of publishing.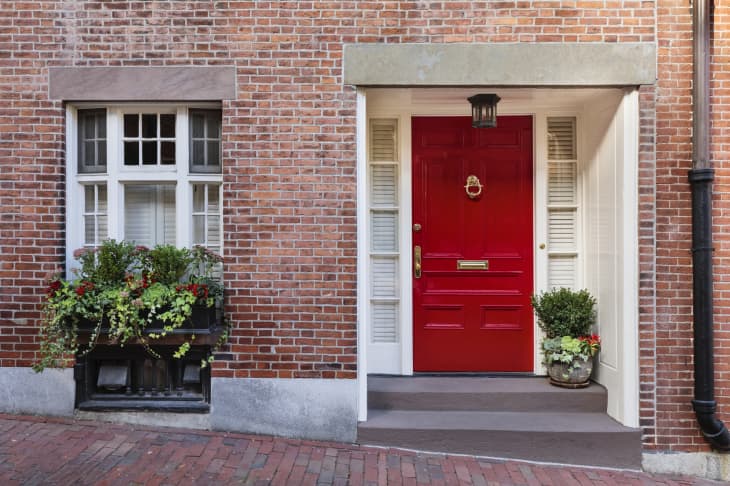 The most magical thing about a new coat of paint is its ability to switch up your home's aesthetic, and in certain cases, its overall curb appeal. When it comes to the front of your house, both cases prove to be true. 
The front door acts as the centerpiece of a home, so while it may seem like a minor detail, the color you choose to paint it may make or break things in the eyes of guests — or potential buyers. If you're looking to shake things up but have no idea where to start, worry not, as I've asked real estate experts across the country to weigh in on the most stylish colors to paint your front door. Here's what they had to say. 
A Pop of Color to Catch the Eye
"I think a bright color really helps the home stand out, especially since buyers nowadays are looking at multiple homes before making decisions," says Tyrion Bridgeman of Bridgeman Luxury Real Estate in Atlanta. "A brown door makes the home look dated," he says. Instead, the real estate agent recommends colors like blue, yellow, and red in order to make a lasting impression.  
Over in Oakland, California, Deeana Owens of Owens Real Estate agrees. "Door colors should pop and be inviting. Red doors are always trendy," she says. "Some cultures paint their front doors red to signify that it has been paid off."
Owens also suggests yellow and orange as bright colors that'll make a house pop. As long as the color chosen makes sense with the rest of the house's color scheme, eccentric colors are fair game, she says.
"I'm finding here locally the door colors that are the most attractive right now are things that are really bright like bright yellow, green, red," says Kayla Preston of Every Door Real Estate in Seattle. "Anything that'll make the home stand out, especially if the rest of the home is pretty neutral colors," she says.  
For those looking for an inoffensive yet still unconventional option, Janet Welsh of Uncommon Ground in Helena, Montana, recommends gray as a great base. "Gray and yellow go really well together or gray and an eye-catching blue. Also I've been seeing some charcoal grays with bright red and that looks beautiful," she says. 
Among all the real estate agents I polled, the common consensus is that most colors can look great as long as they stand out. "I think contrast is the key, so if you've got a white house, don't do a white door," Welsh says. "A white house with a black door looks great. Something that jumps out and makes you want to go inside if you're a buyer."