Bet You Don't Know the History and Symbolism Behind Red Front Doors
We
independently
select these products—if you buy from one of our links, we may earn a commission. All prices were accurate at the time of publishing.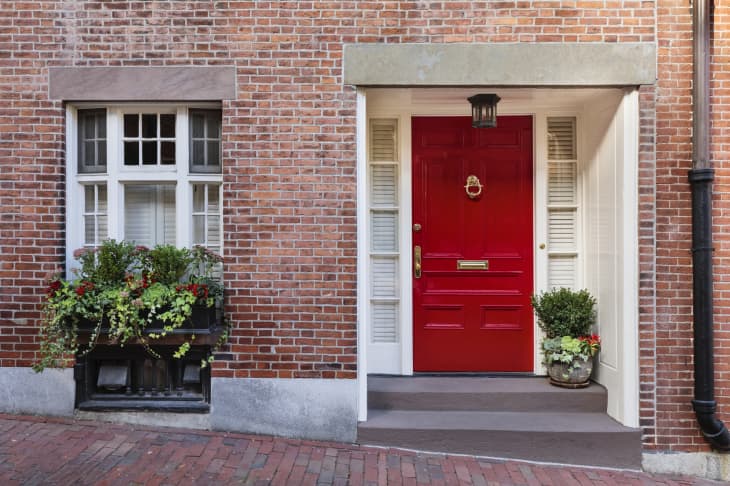 When I bought my first home outside of Denver, Colorado, I was charmed by its cherry-red front door. I like the way it popped against the brick exterior, and ever since, it's proved to be the perfect backdrop for wreaths—especially during the holidays. I like to think my red door garners some stellar curb appeal. But I've also learned that a red door could mean a lot of different things, depending on where you live.
Depending on where you are in the world, a red door could mean you're living debt-free. A red door could also be a symbol of luck or a sign of welcoming your neighbors. But how much of this is true, and how much can be chalked up to Internet hearsay? Here's a rundown of the history and symbolism behind red doors.
Are red doors a symbol of paying off your mortgage?
It's been said that when you're "out of the red" and pay off your mortgage in Scotland, it's customary to slap a fresh coat of red paint on your front door. But do people really do this?
Not really, dishes Triplemint real estate agent Gary Cryle, who is from Aberdeen and moved from Scotland to New York City four years ago. 
"The red door thing is more of an urban myth kind of thing rather than something well-known," he says. "It's said that once someone pays off their mortgage in full, they paint the front door red. I've never known anyone actually to do this in real life, but I'm sure it's something perhaps a small number of people do." 
For the sake of red-door investigative journalism, we looped in Cryle's parents, too. As Scots, they don't know any real-life instances of people painting their doors red, either. They do think has something to do with positive energy and good luck.
OK, let's go knock on that door.
"In the Chinese culture, red is the color that will fight evil away. It brings luck and health," says Nikki Sun, a licensed real estate salesperson with Compass in New York City. Sun was born and raised in China and has been living in New York City for the past decade. She estimates 80 percent of her clients are Chinese.
However, the color's good luck doesn't necessarily mean people permanently paint their doors red. Rather, Sun explains, during the Chinese New Year, households will put Chun Lian around their front door, which is Chinese poetry printed on red paper.
"Chinese believe the front entry is the gateway of feng shui, so by having the front door—or around it—red in color, it is a symbol of luck, health, and money," she says.
The shade of red is important
If you're following the principles of feng shui, a Chinese design concept, a main door that faces northwest or west shouldn't be painted red, as these are the sectors of metal element, explains Eddie Tee, a feng shui practitioner who blogs at FengShuied. Red represents fire, and you would be creating an elemental conflict of metal and fire, Tee explains.
Amanda M. Amato-Scotto, a certified feng shui consultant and design psychology expert, says red symbolizes good luck, strength, and the fire of our spirit, which is passionate, expansive, and motivated. 
"By painting our front door red, we are setting the intention that we want to attract positive energy, abundance, passion, and opportunity into our home and lives," she says.
While red can ignite feelings of passion and motivation in some, it can trigger anger or anxiety in others, Amato-Scotto says. This is why selecting the right shade of red must be chosen carefully. A saturated red, for instance, can be jarring to the eye and make people feel uncomfortable, she says. 
"The color we first see entering our home should uplift our spirits, not cause dread or frustration that will lead to bringing draining energy into the home," she says.
Red doors can be welcoming
"Historically, in America, a red door was a sign that a home was a safe place for travelers to stop and rest their horses," says Christopher Arienti, a realtor at RE/MAX Executive Realty.
"Often people would paint their doors red to signify that they were neighborly," Arienti adds. "To this day, it's a sign of inclusion and signifies that you want to be a part of the community."
Indeed, red has a welcoming energy, says Linda Lauren, a color and energy expert. 
"Some people see red as protection as well as an invitation," she says.
So, who's convinced they need a red door of their own? I'm still beholden to my mortgage company, but I've got wreath recommendations.