7 Pieces of Furniture You Don't Actually Need in Your Living Room, According to Home Stagers
We independently select these products—if you buy from one of our links, we may earn a commission. All prices were accurate at the time of publishing.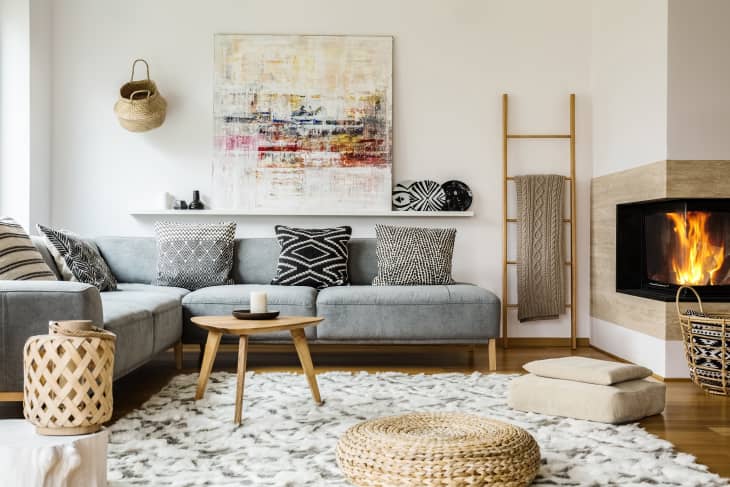 If you can't move freely around your living room without stubbing a toe or knocking a shin, it might be time to reevaluate your furniture setup. You're probably asking: What could I possibly get rid of? Each piece serves an important function, right? 
Follow Topics for more like this
Follow for more stories like this
Well, that depends. Over time, as lifestyles have changed, so too have living room configurations and elements. We turned to six professional home stagers for their advice on which pieces of furniture you don't actually need in your living room. Kick them to the curb and free up some much-needed space today.
Because TVs have gotten slimmer and lighter — and components like DVD players and VCRs have fallen by the wayside — large entertainment centers are no longer a necessity, says Brian Garcia of D&G Interiors and Design in Hoboken, New Jersey.
"They are an antiquated concept that not only crowd up wall space, making a space feel tight, but they also make your interior feel tremendously dated," he says. "Instead, use a media console. Consoles are a much more modern approach to housing today's technology and allows you to treat your TV as an accessory or a piece of art."
Of course, you could go sans stand altogether, explains Lori Sperling, founder of L&A Home Styling & Staging in Marin, California. "Allow your wall to act as a blank canvas, protecting precious square footage by mounting a TV to it," she says. "This is a great way to optimize your space while doing double duty of housing all unattractive wiring in the walls."
If all else fails, Sperling says putting a TV above the fireplace is always a great solution.
When you think about it, there's not much to love about love seats, says Garcia.
"Love seats are typically clunky, awkward, and not practical, as only one person can sit in it comfortably. Instead, I recommend placing two chairs that complement the sofa."
This arrangement is much more versatile as you can easily move the chairs around as needed, he adds. Plus, he says they "offer a great opportunity to place something in a space that is sculptural and interesting."
Huge freestanding speakers used to be a status symbol — back in the 1980s. Now, they're an obsolete eyesore, say Katie Hilbert and Kari George, owners of The Home Sanctuary, a home organizing, styling, and staging company in Louisville, Kentucky.
"These are no longer needed and just clutter up the space—and collect dust! Having [oversized pieces] often throws the scale of the room off. Think minimalist and clean lines."
You might consider a sizable coffee table an essential part of your living room arrangement. But Adrian Dagli, founder of Interior Wanderer, an online service that delivers accents for home styling to you door, begs to differ.
"Ditch the traditional coffee table. Opt for multi-purpose furniture like poufs, nesting tables, or stools that can adapt to your ever-changing lifestyle. These are a great way to lighten the feel of a living room while still delivering practicality," she says.
Or, if you must have one, choose a coffee table that's "thin, dainty, and minimalist," recommend Hilbert and George. "You want to look for clean lines and having an open space."
It may be comfortable, but it's time to ditch grandpa's La-Z-Boy once and for all, says Sperling.
"There comes a time to update the look. We're big fans of accent chairs, and adding a throw blanket can bring just the right amount of softness to a space," she says. "Creating a seating nook is also a great way to add warmth and charm to the living room."
Nearly every living room set you see at traditional furniture stores includes two end tables, meant to frame the sofa or the loveseat. But are they really functional?
"It isn't necessary to have an end table next to every seating arrangement," explain Hilbert and George. "It clutters the space when it looks like you have too many pieces crammed into one room."
Joni Rentz, president and CCO of FØRM, a New York City-based interior staging and design company, agrees. "If the only purpose they serve is a place for a lamp, then add a floor lamp and get rid of the tables."
Or, instead of lighting, bring the outside in by adding a plant on either side of the sofa in place of an end table, Dagli recommends. "An olive, fiddle, or even a smaller snake plant adds so much life and energy."
One too many storage pieces
Do you have a bookcase, a DVD cabinet, a curio cabinet, or other such storage pieces in your living room? If your answer is all of the above, that's way too many, says Rentz. "If storage is an issue, it's best to get one unit that serves multiple storage issues rather than having multiple pieces of furniture."