This Artist's Faux Food Furniture Will Have You Craving a Bread-Shaped Sectional
We
independently
select these products—if you buy from one of our links, we may earn a commission. All prices were accurate at the time of publishing.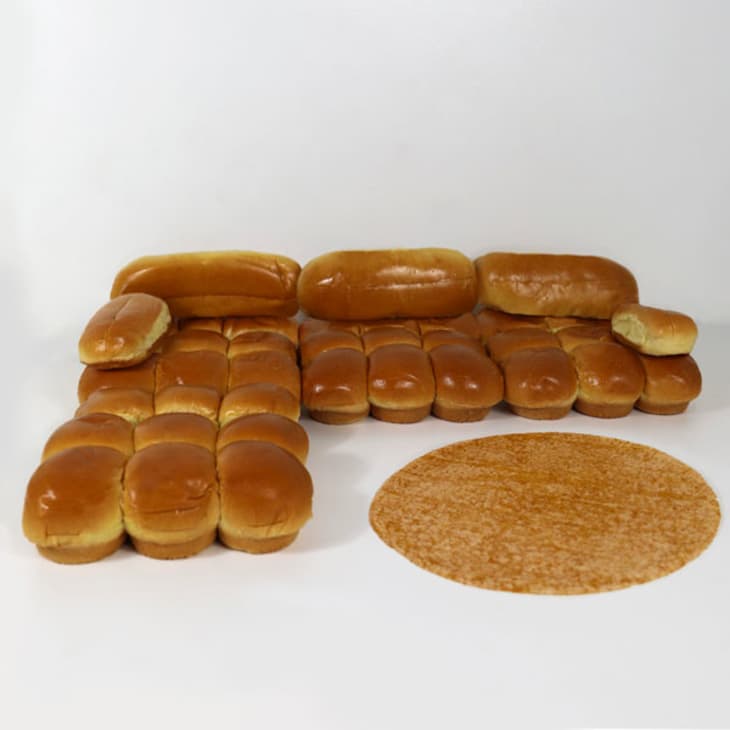 Food-shaped decor has found its way into homes via ceramic cakes, stools shaped like cobs of corn, and hamburger-inspired drink coasters. And artist Gab Bois is adding to the hype by creating entire pieces of furniture that resemble your favorite snacks.
From a pumpkin-shaped teapot with a set of matching teacups to a popcorn-covered armchair, you may have already stumbled upon Bois' work via her Instagram account. The Montreal-based artist has commissioned intriguing, experimental pieces for beauty and fashion companies like Balenciaga and Marc Jacobs, and her latest work will have you craving more food-shaped furniture.
In an interview with Dwell, Bois said her favorite food-related creation is a brioche bread-shaped sectional that mimics the popular Camaleonda sofa by Mario Bellini. "It was one of these pieces that I saw everywhere online: from Jacquemus' office to influencers' living rooms," she told Dwell. "I always like to poke a little fun at trendy objects, and while I personally really like the silhouette of that piece, it also reminded me of a pack of round buns every time I'd see it."
Other sectionals recreated by Bois include a sofa with sheets of pasta and pillows made of ravioli, a delectable strawberry shortcake sectional, and sandwich couch that looks both tasty and comfy. But her artistry doesn't stop at home decor and fashion. 
Bois has garnered attention from Vogue, Elle Magazine, and other publications after her work went viral on Instagram. According to the artist, it was never her intention for her artistic talent to turn into a career, but the positive engagement on social media has encouraged her creative journey.
"I was actually a year-and-a-half into a bachelor's degree to become an elementary school teacher when I started to post my photography on this account," she told Elle Magazine. "It was never the plan to make a career out of it, but thanks to many factors, my photography gained some great attraction on Instagram, to the point where I decided to pause my studies and try out a career in the arts."