This Budget Hack Can Help You Recreate the Luxe Open Shelving Trend for Way, Way Less
We independently select these products—if you buy from one of our links, we may earn a commission. All prices were accurate at the time of publishing.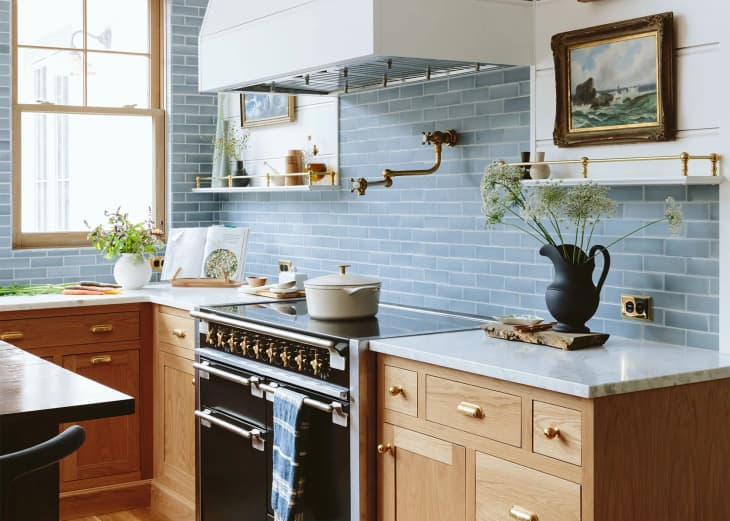 Whether you hate it or love it, open shelving in kitchens has proven to be a trend with staying power. No wonder: It's a great way to make a small kitchens feel bigger (no bulky upper cabinets!) and display artful cookware and dishes where they can actually be seen. And, as savvy DIYers know, a set of well-made shelves can add tons more storage to a space for a fraction of the price of cabinets.
If you want something a little different from plain old shelves, though, take note of this year's rising trend: open shelving with gallery rails. The polished metal rods held in place by posts act as both a (seriously fancy-looking) decorative feature and a bit of a guardrail for anything stored within. Installing this luxe addition on your own open shelving can get pricey, though, with some retailers charging upwards of $10 for each individual post. When you're fitting out a whole room worth of shelves, that can quickly add up.
That's why this hack from experienced DIYer Carli of @madebycarli is so smart. Carli, who's been working to transform every room in her 1945 Rhode Island home, skipped traditional retailers for posts and rails for the open shelving in her kitchen. Instead, she found a surprising (and very affordable!) source: a chess board. Carli opened up an old set and grabbed a few pieces in matching styles — here, she picked bishops — and drilled holes through each one that would be able to fit her rail. Oh, and the rail? Wooden dowels!
Carli glammed up her humble chess pieces and wood dowels with a few coats of ultra-shiny spray paint in a gold finish — a pretty good approximation of polished brass, especially for a high-up display. After that, it was all about installing her fittings on the shelves. The result? Shelving that looks expensive, but that Carli says cost her about $180 less than if she'd bought brass rails and posts.
Want to try this DIY? Keep an eye out for chess sets that have wooden pieces rather than plastic, which is more likely to crack while you're drilling the hole. You might find these at thrift stores, garage sales, or even Facebook Marketplace, but you can also buy replacement chess pieces online; plenty of options are available for less than $20 a set. Then, hit up your favorite hardware store for dowels, which will cost you a couple of bucks for a few feet of length. You'll need to choose a diameter that's no more than 75 percent of the width of the chess piece you're using so it will fit securely inside. As for the finish, glossy brass is a classic, but you can also try out more subdued tones like oil-rubbed bronze. After that, it's a matter of fitting the pieces together and attaching them to your shelving with screws. Ta-da: You've now got a totally new, sophisticated look for your existing shelves that you can pull off in an afternoon, and for a fraction of what you'd spend on real-deal brass.