Garcelle Beauvais Infused Her Haitian Roots Into Her New Home Decor Collection
We independently select these products—if you buy from one of our links, we may earn a commission. All prices were accurate at the time of publishing.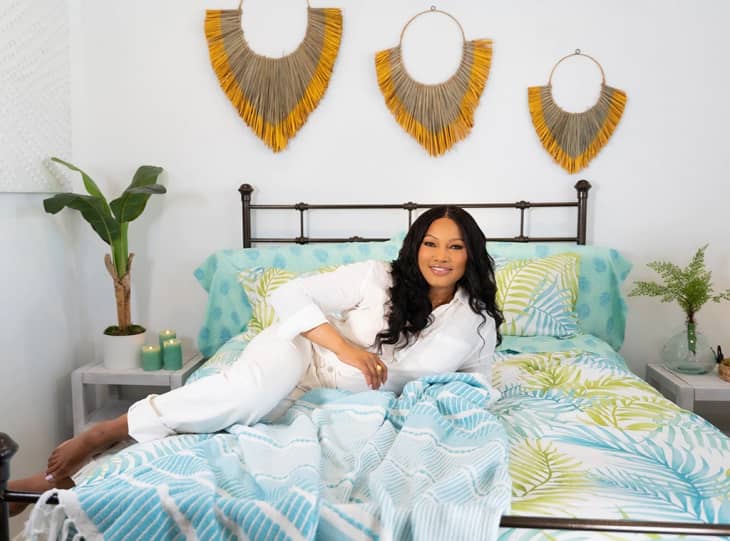 Fans of Garcelle Beauvais will remember her iconic role on "The Jamie Foxx Show" and memorable personality on "The Real Housewives of Beverly Hills," but her latest endeavor celebrates her love for interior design and entertaining.
Follow Topics for more like this
Follow for more stories like this
According to Beauvais, "your home is an extension of who you are," so she suggested adding touches of color and personality throughout your home. Her statement is reflected in the collection, which is inspired by her home that often receives rave reviews from her guests.
"I realized as I was growing up [that] I have an eye for [decorating]," she tells Apartment Therapy. "Friends would come over and say, 'Oh my god, where'd you get that? Who decorated your house?' I'm like, who decorated my house? What are you talking about?"
Beauvais' natural-born passion for decorating is fairly equivalent to her knack of entertaining, which isn't surprising due to her recent partnership with Absolut Vodka. The initiative to join Absolut's Front Yard Citrus Club was a "no brainer" and resulted in Beauvais' go-to summer cocktail and a citrus-inspired line of drink coolers. Between entertaining party guests and creating a dream decor line, she's had a busy summer at home.
Apartment Therapy had the opportunity to hear more from Beauvais about her HSN collection, tips for hosting a backyard party, and the recipe behind her favorite summer cocktail.
Apartment Therapy: You've done it all — actress, model, author, superstar, so is this collaboration feeling like a "pinch me" moment for you?
Garcelle Beauvais: Yes, absolutely. When you love something, and you just enjoy it on your own, and then someone comes up to you and says, "Hey, let's do a collab with something that's organically what you like." It just makes life easier. When Absolut came to me to do the Front Yard Citrus Club, it just felt like a no brainer. I love to entertain. I love to have friends over. I grew up with a house full of people, and I love Absolut. The thing that I really loved about the entire campaign is taking what used to be the norm [being in the backyard and entertaining your friends] and bringing it to the front yard, where you can invite more people and your neighbors can come.
AT: What inspired you to intertwine your Haitian roots into Garcelle at Home?
GB: Since the pandemic happened, we all have a different love and appreciation for where we live. Not a lot of people also get to travel, so this was a way of creating a line that made you feel like you were away on vacation, such as making your home this tropical oasis and your zen place. And even though the world is open again, I think we're now realizing that we still want to be home, and we still want it to be festive and fun.
AT: What else were you envisioning for the home decor line, like specific color schemes?
GB: Definitely, color is my thing. When I'm in Haiti, you see all the bright colors from the homes to what people are wearing to the decor of the island, and I just love color. Accessories should be fun and why not brighten your home? You can have the base of the home [painted with] a white paint or white cabinets, but then add pops of color to make it lived in. I think your home is an extension of who you are and your personality, and that's what people take when they come in.
AT: I know it's hard to choose — do you have your top three favorite items from the line?
GB: I love the tropical dream comforter, which is a seabreeze blue and the perfect pairing green. I just love the palms on the comforter. I'm a candle freak, so it was important for me to have candles in my line. They're flameless with a remote control, and you can set them on a timer but I really loved the imprint of a palm on the actual candle. And I would say the other things would be the pillows. We have a pineapple print that has one pineapple on one side and three on the other. And it has the opposite color tassels, which I love for a whimsical look.
AT: How do you recommend people start getting passionate about interior design?
AT: What are three of your favorite tips for hosting/entertaining?
GB: Have fun! As a host, you want to be able to enjoy your friends. You don't want to be in the kitchen while everybody else is having fun without you, so prepare things and have them out. Have your cocktail choice, like if you're gonna do the Absolut Citron Swizzle — have it in a big jug, so people can help themselves and then you can enjoy your friends too. I say: good music, good food, and great friends.
AT: Do you have a favorite cocktail to serve at parties?
GB: It's the Absolut Citrus Swizzle, which is lime juice, lemon simple syrup, and a dash of bitters — then you garnish it with whatever you want. Put [the drink] in a big jug, and then have glasses that already have the garnishes in them, so that people can just pour it, and it's good to go.
The Garcelle at Home collection is available to shop on HSN.com and Beauvais' recommended cocktail recipe and coordinating drink cooler are available on Absolut's website.