3 Things to Do If You Get Off on the Wrong Foot with Your New Neighbors
We independently select these products—if you buy from one of our links, we may earn a commission. All prices were accurate at the time of publishing.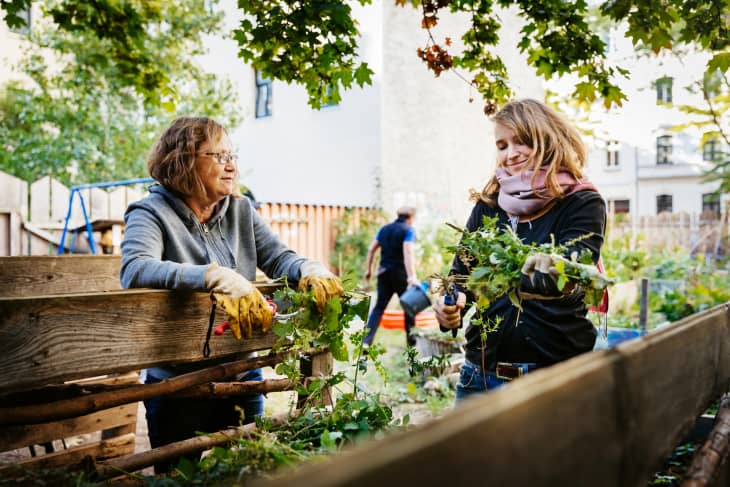 In a perfect world, we'd all be besties with our next-door neighbors, just like in a TV sitcom. If there were ever any disagreements or misunderstandings, they would be resolved in under 30 minutes, too. 
But this is the real world, and it's definitely not realistic to think that you'll always be polite and cordial with your neighbors, much less the lead characters in a buddy comedy.
Even if you prefer to keep to yourself, it's better to be on good speaking (or at least waving) terms with the people who live next door, across the street/hall, etc., especially upon first moving in. But if something has transpired to make even a brief interaction tense or angry — not taking sides or pointing fingers here! — it's a good idea for everyone's sake if you make an attempt to smooth things over.
There's a reason for the saying, "You don't get a second chance to make a first impression." But it is possible to call a do-over on a neighbor introduction, provided you go about it in the right way. Here's what some real estate agents have to say about it.
Send a personal note with some goodies.
Even in the digital age, a written note still reigns supreme when reaching out to address a neighborly issue, according to many of the real estate agents I spoke with.
"Send a note addressing how important it is for you to have an established and good relationship with your neighbor," says Priscilla Holloway, real estate agent and new construction expert at Douglas Elliman. Be sure to use a polite and gentle tone in your message. "People want to know that you are aware that there is an issue and want to extend an olive branch of sorts," she says. 
To thaw any iciness further, she suggests a small gift for your neighbor along with the note, such as a gift card to a local restaurant or cookies from a local bakery. You might even invite them over for coffee or a drink. Aside from smoothing things over, you're also making the gesture that you'd like to get to know them better, says Holloway.
Ellen Sykes, a broker with Coldwell Banker Warburg in New York, agrees. "Nothing beats a personal handwritten note," she says, though she likes the idea of attaching one to flowers or a potted plant. Still, it's more about the personal note than than the gift. "It needn't be long — just a few sentences — but it should be sincere," she says.
Head over for a chat — and also bring goodies.
Floral arrangements and baked goods are indeed a theme here, but sometimes it's best to skip the note and just head over with the goodies and have a chat, says Jon Sanborn, a Realtor in San Diego and co-founder of SD House Guys, a home buying firm. 
"When you bring those cookies, simply say, 'I know we got off on the wrong foot. I'd like to start over.' This tactic gets the awkwardness out in the open and will (hopefully) get rid of it just as quickly."
Shaun Martin, a real estate professional and owner and CEO of The Home Buying Company in Denver, is also a fan of talking things out.
"If you're able to have a civil conversation with your neighbor, it's worth giving it a shot," Martin says. "Talk about what happened and why it bothered you. If they're receptive, they may be willing to work towards repairing the relationship."
Continue (or start) being a good neighbor.
Even if it's your neighbor's faux pas that has caused the coolness between you, make sure that your own behavior isn't further contributing to the problem.
"To be a good neighbor in general, respect the fact you are essentially sharing a living space that is your community," says Sanborn. "What you do and don't do on your property affects others around you, even if you aren't sharing walls and floors like in an apartment building."
A good portion of that respect comes from recognizing that not everyone is the same as you, Sanborn explains. 
"Even if you don't like those 20 gnomes in their yard or those silly blow-up displays, they might be putting up with your dressed-up 'fur baby' or the smell of your compost pile, because that's what neighbors do," he says.
If you are sharing walls and floors with your neighbors, then you understand that neighbor relations in an apartment building other multifamily building are a whole other animal. You might never catch sight of your neighbors, but you most likely can hear them. Guess what? They can probably hear you, too, even if you're not throwing wild parties nightly.
Gerard Splendore, also a broker with Coldwell Banker Warburg, says being courteous and even helpful can go along way, even if you have no intention of becoming friends with your new neighbors. You don't have to invite them to dinner, but sharing helpful tips about the building — even something small like what time of day the mail gets delivered or when the exterminator comes around — would be appreciated by newcomers. 
And if you happen to be the new kid on the block, politeness is always welcome. 
"Holding the front door, keeping the elevator open for a neighbor, and carrying deliveries — both boxes and groceries —  goes a long way," Splendore says.
This piece is part of Community Month, where we're sharing the best ways to connect with, strengthen, and celebrate the communities you live in and belong to. Head on over here to see it all!