3 Rules an Etiquette Expert Swears By for Easy (but Memorable!) Gift-Wrapping
We independently select these products—if you buy from one of our links, we may earn a commission. All prices were accurate at the time of publishing.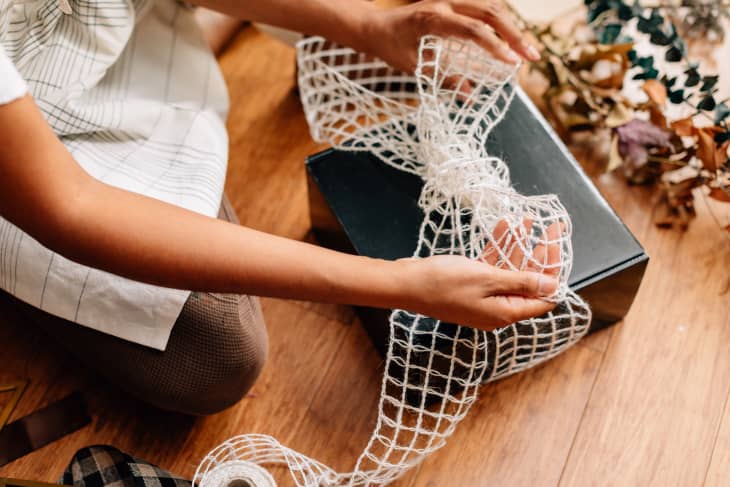 One of the most memorable gifts I have ever received was from my twin sister. I love pasta, and she got me a bunch of artisan pastas and tomato sauces for Christmas. But what made the gift the most memorable was how it was packaged: She wrapped the ingredients up in a beautiful colander with kitchen towels. The creativity and extra effort she put into the gift-wrapping was a big step up from the year she forgot to wrap my present and just threw the gift in a GAP shopping bag Christmas morning, but I digress! 
Follow Topics for more like this
Follow for more stories like this
I still remember the joy and love I felt in opening the pasta gift, and experts agree that gift presentation is an important part of the gifting experience. If you want to step up your gift wrapping game for the 2021 holiday season, these tips from an etiquette expert will help you do just that — no pro wrapping experience required.
Make the packaging functional.
Gift wrapping doesn't just have to be beautiful; it can also be totally functional! "Really think about useful packaging," Elaine Swann, an etiquette and lifestyle expert and the founder of Swann School, tells Apartment Therapy. "Let's say, for example, you're going to give a gift that has something to do with the kitchen. Use a beautiful kitchen towel as the wrapping and tie a really pretty bow around it. This way, again, you're putting in wrapping but also making it useful."
In a way, it's two gifts in one. You can also use a keepsake box that your loved one can use as storage for years to come. "It enhances the gift you're giving to that individual and makes it useful, thoughtful, and sustainable," explains Swann.
Use unique materials to wrap.
Gift wrap doesn't just have to be wrapping paper or a gift bag. Using other materials, such as burlap, satin, or some other beautiful fabric, will enhance the gift's presentation and show extra care and effort.
"Let's say, for example, you have someone you're bringing a bottle of wine as perhaps a hostess gift. Instead of just slipping the wine bottle into a wine bag, you can get some beautiful fabric and wrap the wine bottle in the fabric and tie it up with a really big bow," recommends Swann. "This way, it's easy to hand over and it looks great. It's just another way of presenting it. It's something I often do."
Remember, it's about the experience.
Sometimes, it's easy to get so focused on the gift itself you forget about the experience of truly opening the gift — which is why both the presentation and the context of opening the gift matter. But you don't have to work part-time as a gift wrapper to make a difference; even brushing up your skills by watching a few YouTube how-tos can help you feel confident in your gift-wrapping abilities.
"Presentation matters because of the thoughtfulness behind it. When individuals see you've taken an extra step, as opposed to getting a bag and throwing some tissue into it, that extra step really makes it special," says Swann. "It lets the person know you took great thought into getting this gift for them. It doesn't feel as though it is an afterthought. It sets the tone for the gift experience."