8 Gifts You Can Mail in a Standard Envelope
We
independently
select these products—if you buy from one of our links, we may earn a commission. All prices were accurate at the time of publishing.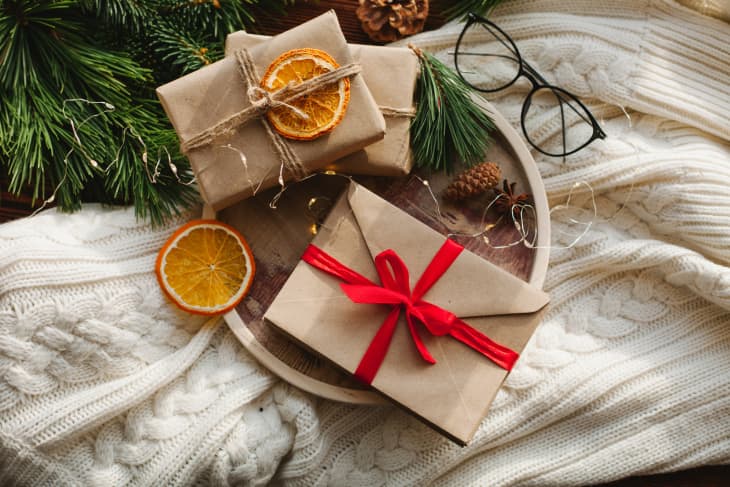 This holiday season, you may be planning to send cards to loved ones. Or perhaps you're hoping to mail a gift, but you're looking for something more personal than what gets shipped when you shop online, and less bulky than a full-blown package. Either way, tucking something special into a card is a heartfelt way to share your love this holiday season. (Bonus points if you include a thoughtful hand-written note.)
If you'd rather send something a bit more personal than money, we've got you covered. Here are eight simple-but-meaningful gifts you can mail in a standard envelope. 
Gift cards are among the most practical presents, but they're a bit more personal than simply sending money because you've taken the time to think about what your friend or family members might want. To show you care, buy a gift card for your loved one's favorite store, coffee shop, or restaurant and pop it in a card or letter. If you want to share a gift for a business that's not local to you, check their website to find out if there's an option to print a gift card at home or have it mailed to you. 
Wish you could whip up a home-cooked meal for someone far away? Do the next best thing and send a hand-written recipe card with instructions for making a cozy winter meal (or favorite dessert). To go the extra mile, you can also include a gift card to the grocery store so they can easily grab the ingredients, or have the groceries delivered right to their door.
Have a coupon or special offer you won't be using for a store someone else loves? Send it! If you want to send a more personal gift, create your own "coupon" the recipient can redeem for a home-cooked meal, babysitting, or a chore like shoveling — whatever your loved one would appreciate most. 
Pressed Flowers or Leaves
When you can't send a whole bouquet, go the whimsical route and press some flowers or leaves at home and include them in a card or letter. It can take a few weeks for foliage to fully dry, so you may want to start the process now. Simply place a flower between two pieces of newspaper, place the flowers in a book, and add a few other books on top. 
Tickets to a concert, play, or sports event is a super-special way to spend time with someone you share interests with. Try surprising your lucky recipient by buying a pair of tickets for a future event, then mail them theirs.
Whether you're mailing something to a kid or a kid at heart, temporary tattoos are a fun way to add some flair to a card. Inkbox has a huge selection of adult-friendly tattoos, from modern geometric designs and inspiring quotes to quirky animals and insects. 
It may feel like a lifetime away, but after the holidays, spring is just around the corner. Share a packet of seeds in your gift so your loved one can get a head start on their herb, veggie, or flower garden next year. 
You may not be able to sit down for a cup of tea with your long-distance friend or family member, but you can send the main ingredient. Tuck your favorite tea bag into a card with your warm-and-fuzzy sentiments. Any tea bag should fit in a standard envelope, but you may want to aim for a plastic-wrapped option (or wrap it yourself) to prevent tears.