This TikToker Turned Thrift Finds into a Charming Gingerbread Village
We
independently
select these products—if you buy from one of our links, we may earn a commission. All prices were accurate at the time of publishing.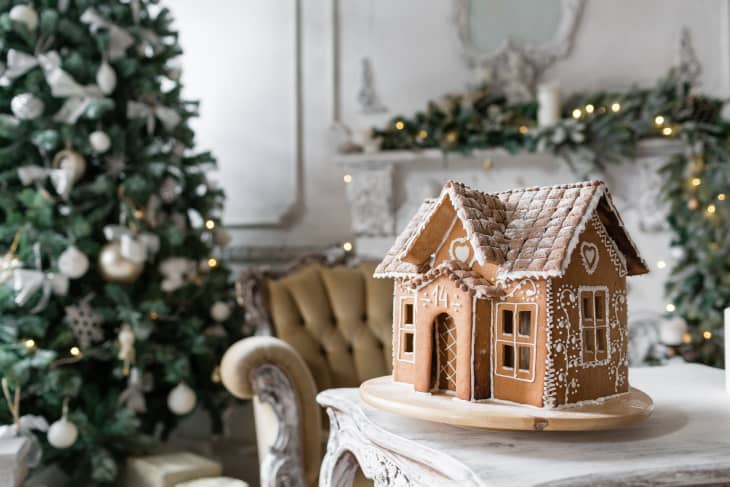 One TikToker found a way to make her own gingerbread village using pieces she found at the thrift store.
"I love these Pottery Barn gingerbread village houses, but I couldn't see myself paying $40 for just one — and it's the small one!" Stephanie from Casa Watkins Blog on TikTok and Instagram said in a recent video. "So I went to my local thrift store, found a lot of these little ceramic tchotchke houses, gave them a sprucing with some spray paint, added some details with a Sharpie white oil-based paint marker, and made my own little village."
As part of its Christmas collection, Pottery Barn debuted a line of ceramic gingerbread houses that can be collected and assembled as an entire gingerbread village. They're absolutely adorable and a fun alternative to traditional ceramic Christmas villages. 
"I was able to make six gingerbread houses for just $40," she said. And her six houses are one-of-a-kind and totally unique.
The spray paint Stephanie used is called Warm Caramel from Rustoleum, and it's the perfect gingerbread hue. It's also a primer and a paint so you don't have to do any additional prep besides giving your ceramics a good cleaning before you paint.
"Thank you for sharing this!!" one person commented. And someone else suggested using white puff paint instead of Sharpie to give the frosting that 3D effect.
So if you love the look of the Pottery Barn village but want to put your own spin on them, keep your eyes peeled the next time you're at the thrift store and you may stumble upon a potential gingerbread diamond in the rough.