The '80s Trend That Real Estate Agents Love Seeing
We
independently
select these products—if you buy from one of our links, we may earn a commission. All prices were accurate at the time of publishing.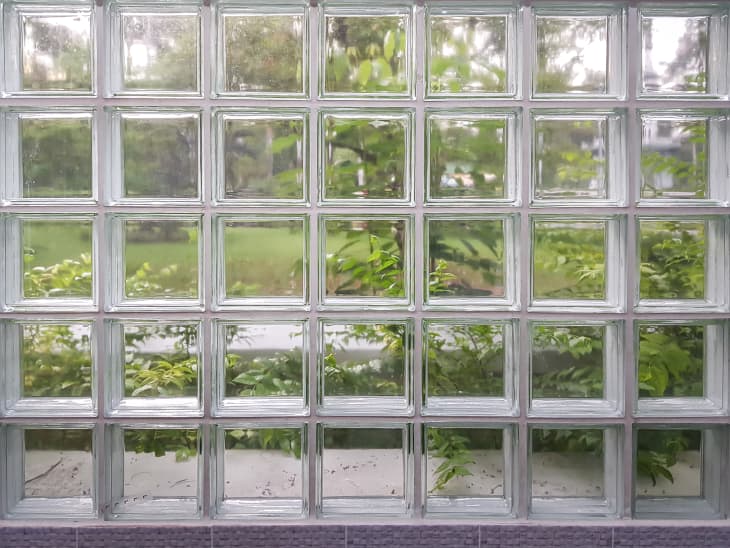 They say what goes around comes around—whether you like it or not. From fashion to interior design, certain styles and trends seem to pop back up without any warning.
Take glass blocks, for example. This type of decorative building material—essentially hollow bricks made of glass that are translucent and sometimes patterned—was long seen as an unsightly leftover from the 1980s. 
But now, homeowners, designers, and real estate agents alike are changing their minds about this retro look both for its form and function: glass blocks provide structure, allow in natural light, and offer some privacy since they're not transparent.
One real estate agent has witnessed the resurgence of glass blocks firsthand. When Julie Busby, a top Compass broker and founder of the Busby Group in Chicago, gut-rehabbed her home in the Windy City, she decided not to get rid of all the glass blocks in the house, which were "everywhere," she says.
"I removed a lot of it but kept one main wall with the glass blocks. The reason I kept it is that it brought in natural light but distracted from a view of my neighbor's brick wall," she explains.
Busby adds that glass blocks offer great insulation ("A big plus here in Chicago," she notes) and are more secure than typical windows because they're thick and hard to break ("Also good in an urban environment," she says).
Busby explains she contemplated changing the grout color in her blocks to black to match her black industrial-style windows. She decided against it, but has been noticing homeowners updating their own grout. "I am definitely seeing that trend—people are changing the grout color to look more industrial, which is especially on-point with design in markets like Chicago or New York City."
Glass blocks are back in style in warmer climes, too. Agent David Pulley of Douglas Elliman in Miami Beach associates glass blocks with his city's unique design history.
"Glass blocks are synonymous with Miami Art Deco. They are certainly making a comeback. I have seen them used in homes more as an accent rather than large-scale settings, much like you would see in old Art Deco buildings or as a fashion trend in the '80s."
Specifically, he's seen glass blocks being used to add decorative flair to a kitchen island or a bathroom.
"I think it really works if it is done correctly," he says. "Less is more in this case, and it can even create a sense of nostalgia and warmth, which is always good when selling a home."
Even floors are getting the glass block treatment these days, says agent Julie Gans of Compass in New York City.
"I have seen them in bathroom floors and hallway floors with underlighting. It gives the area more soft, indirect lighting and helps to make the areas brighter."
Plus, Gans adds that a wall made of glass blocks can break up an open floor plan without completely negating the concept.
"It's a way to differentiate a space while still allowing light and airiness into it," she says.