There's a "Golden Girls" Children's Book For Your Mini Cheesecake Lover
We independently select these products—if you buy from one of our links, we may earn a commission. All prices were accurate at the time of publishing.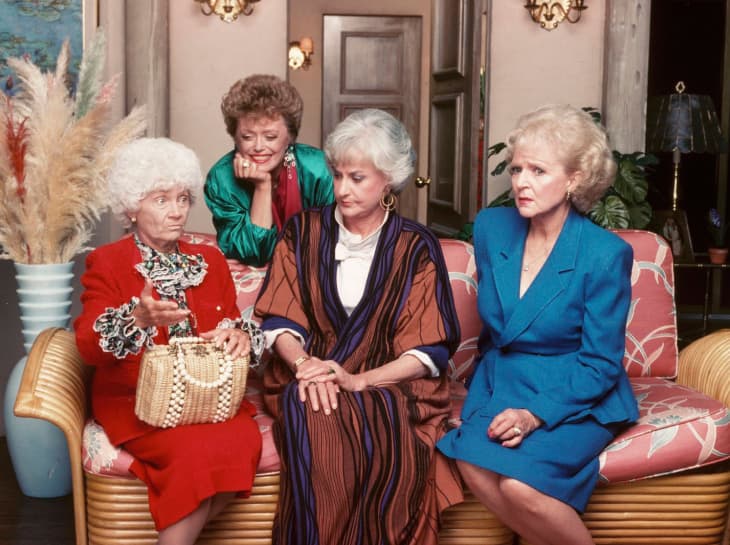 Since its debut all the way back in 1985, generations of fans young and old have continued discovering the joy of "The Golden Girls," with the classic sitcom growing more beloved thanks to reruns and syndication on streaming.
Now, you can easily pass on your love of all things golden to your little ones, and it's all thanks to a brand new bedtime story up for grabs. "The Golden Girls: Goodnight, Girls" ($8.99) is a colorful new board book that captures the spirit of everyone's favorite fictional funny girls, telling the story of a sleepover gone awry.
According to the book's description, "Dorothy, Blanche, and Rose are having a sleepover! And, of course, they are having too much fun to go to sleep. As Ma tries to get them to settle down, the girls enjoy some cheesecake in the kitchen, try on their dress-up clothes, sing and dance, and say goodnight to their friends Stan and Miles. Finally, after taking a bath and putting on their pj's, they all squeeze into bed and listen to one of Ma's Sicily stories before they drift off together."
The adorable 20-page book is chock full of Easter eggs for fans of the show, including references to both Shady Pines and St. Olaf, making storytime just as much fun for you as it is for your kids. And while they might not understand the show's signature humor just yet, they're sure to love the message of friendship and laughter that the series captured so well.
Amazon shoppers love the book, with plenty pointing out that the story, illustrations, and references embody everything they say in St. Olaf: "hergenbargenflergenflurfennerfen." One reviewer called the book "so adorable" and "perfect for any Golden Girls fan," adding, "Every page has something from an episode of the show to tie into the book."
Another called it "a must for 'Golden Girls' fans," adding, "Sooo cute! Probably more for the GG fan than the kid you're reading it to, but the story follows along clearly enough! Each page has references to overarching themes or specific episodes and it is amazing. Would absolutely buy as a gift for a GG-loving parent!" Another buyer added, "I knew this book would be cute, but it's adorable! I love the illustrations! You'll be reading this book a few times right when you receive it, there are so many references!! A must for any GG fan! I got it for my 1 year old, but let's be real, it's more for me!"