This $13 Grooming Tool Keeps My Dog Calm During Bath Time
We
independently
select these products—if you buy from one of our links, we may earn a commission. All prices were accurate at the time of publishing.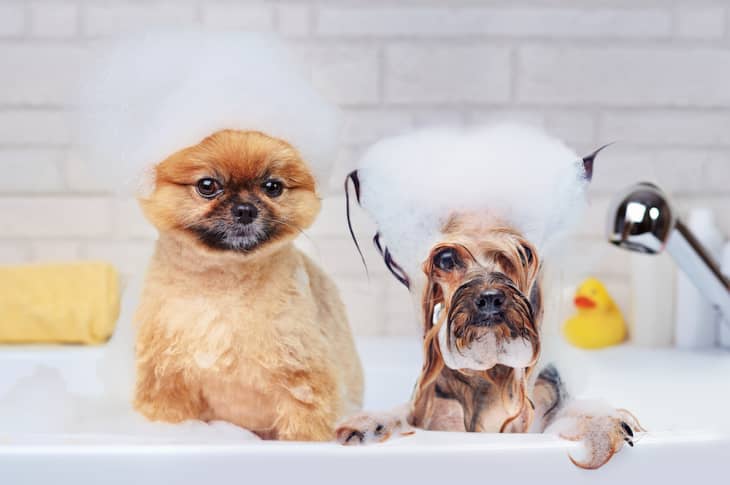 I'm not afraid to admit that I spoil my dog. I'm always on the lookout for high-quality products to make his life as carefree and comfortable as possible. Leo is only a few months shy of adulthood, so I do my best to feed him wholesome food, make sure he's got a cozy spot to rest, and provide him plenty of time to run around outside. Giving him a great life is a priority, and that extends to his grooming. That's why I am always on the lookout for useful products to give Leo his brightest shine — like Grove Collaborative's Good Fur Waterproof Silicone Brush, which is now one of my go-to dog grooming tools.
What I loved about the Waterproof Silicone Brush from the start is that it can be used wet or dry. It has a solid weight to it, so it's a highly durable hand brush, but its bristles are flexible and spaced out to make it extra comfortable for pets. The squiggle shape is not just a change from the standard square and circular brushes, it's actually contoured to make it easier to hold. My fingers fit naturally into the grooves, allowing me to grip the brush securely without it slipping out of my hand, which is extremely important since I mostly use it at bath time.
Once Leo is drenched, I use the Good Fur Brush to work up a shampoo lather and massage the soap into his coat in circular motions. It really does give him a deep clean and gets off all the dirt from that week's walks, and it takes care of loose hair so it doesn't end up in other places around the apartment (like the couch). But most importantly: Leo loves this brush! He actually stays still while I'm using it instead of looking for ways to escape the tub. And even when I'm using it dry, he totally relaxes and lets me brush him peacefully.
Another reason I'm a fan of the Good Fur Silicone Brush? When I use it dry, it traps Leo's shedding hair inside of it, which was surprising since the bristles aren't as dense as a typical dog brush. Okay, it doesn't keep all the fur contained, but it certainly makes cleanup much easier.
I use this brush to groom Leo regularly, and I'll even grab it to calm him down if he seems stressed. That's a win for both of us — and all for under 13 bucks!

Buy: Good Fur Waterproof Silicone Brush, $12.95