This Google Calendar Color-Coding Technique Keeps My Entire Family Organized (and Looks So Pretty)
We independently select these products—if you buy from one of our links, we may earn a commission. All prices were accurate at the time of publishing.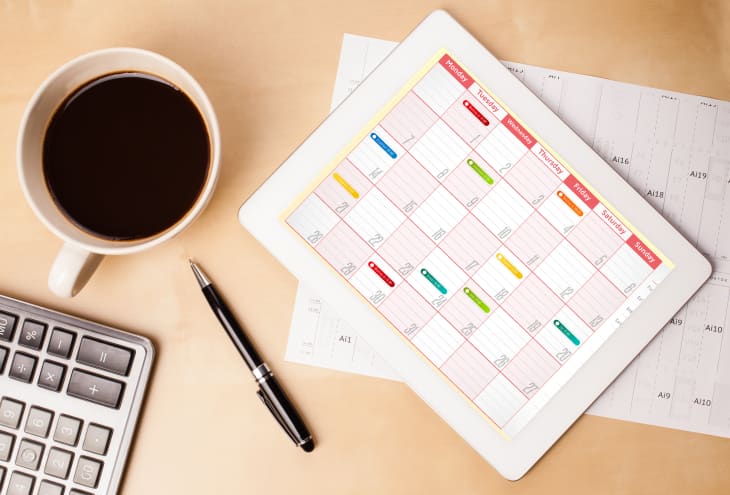 A couple months ago, I slipped away from Florida and my own family of seven to go spend some sweet time with my sister to meet her brand new baby and be with her family. Although I helped my sister as much as I could with her children, not being the primary source of every need for my own five children felt like quite the vacation. 
So what did I do with all my newfound, if temporary, freedom? I overhauled my Google Calendar, of course. 
My calendar had been organized by event type, with each event type having its own color. My work deadlines or calls were dark blue, church activities were bright green, appointments were pink, kids' events were yellow (except for regular activities, which were light blue)… and here is where things began to get muddled. 
As I was adding end-of-the-year testing dates and special events, like elementary school graduations, to the calendar, I realized I needed to re-think my color-coding system. Considering that my three older kids (they're 13, 11, and 9) are old enough to want to know their schedules and ask me about them, I knew it was time to incorporate this piece of information in my overhaul. 
Since I manage the family calendar and the schedules of all our children, I decided the best thing to do would be to switch from color-coding by event type to color-coding by person. This way, each person would have one color to look at to know exactly what was happening with them. No one would need to squint to see who that pink dentist appointment entry was for because it would appear in the color designated for the person who needed to go. 
In addition to a color for each person in our family, I included a hue for events, like camping trips or visitors, that involve the whole family. I also have a less frequently used but still handy color for all the kids, to indicate things like the last or first day of school. Lastly, I have an "other" color for events that I feel need to stand out from the rest of the calendar, like marking the day of our move or highlighting our standing Friday night pizza and movie night. 
Once I had a plan in mind, I began assigning a color to each person in my family. Was I content to just pick colors they liked? Of course not. I wanted my calendar as a whole, when it showed everyone's events, to look color-coordinated and pretty. 
Well, let me tell you something that might surprise you: Picking colors that coordinate with a color picker is way harder than it seems. After a few false starts, I decided to look for a color palette I liked and go from there. One thing led to another and I ended up turning to the experts and buying a color palette from Etsy. I didn't even know that was a thing before I started this calendar overhaul, but now I know that it's so worth it to pay a couple dollars for a palette you like to look at. 
Translating the palette into your Google Calendar color scheme is easy. You simply look up the hex code, which is a six-character code for identifying a certain color digitally (make sure the palette you buy includes hex codes), and insert that when you're picking which color you want to use for a specific calendar (note: you need to do this on a computer, not a phone or tablet). 
I love the way our calendar turned out. I had so much fun doing it, and I had a little epiphany: Our family calendar isn't just a practical necessity for keeping track of our schedules; it's a way to keep the family on the same page, figuratively, and to reinforce that sense of our lives being intertwined parts of a bigger unit. 
Inspired by the surprising way this basic communication tool can strengthen our family bond, I began adding little emojis to some calendar entries. I hope my kids remember that the first day of school was an Event on the Calendar and that Mommy always put a little apple on that day, and that their birthdays were marked with tiny calendar cake emojis. 
Both in the big picture sense of displaying what's going on in everyone's lives on a day-to-day basis and in the smaller, detailed touches, our calendar revamp has impacted our family for the better. I know I've certainly been enjoying the simplicity of knowing at a glance who has to be where when — and seeing that visual promise (complete with a pizza emoji) of pizza and movie night with the fam, at the end of every week.