I Tested Those Viral TikTok TV LED Lights — Here Are My Thoughts
We
independently
select these products—if you buy from one of our links, we may earn a commission. All prices were accurate at the time of publishing.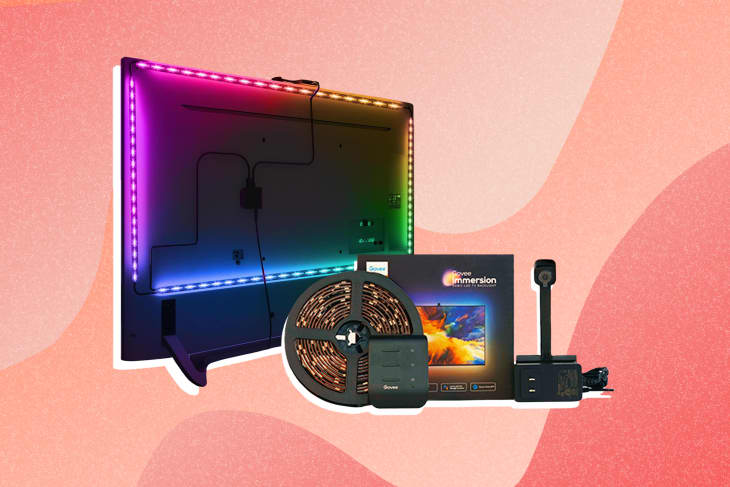 As hard as I try to fight it, I spend a lot of time scrolling through TikTok. However, with my job requiring me to constantly be on the hunt for the latest and greatest in products, I love using social media as a way to source fun gadgets, with this platform being a particularly vast treasure trove of must-have products. For well over a year, I'd seen Tik-Tokers line their walls with LED strip lights, a trend I can't say I was particularly fond of. But then I came across a video that used them a bit differently. These strips were hidden behind a TV, not only adding a fun glow to the space but corresponding with the colors on the TV for an incredible visual effect. Right then and there I knew I had to test out Govee's Immersion LED TV Backlights.
Now, I had toyed with the idea of trying a similar TV lighting system in the past, but after seeing the price tag (the set in question was well over $200) I decided it wasn't something I wanted that bad. So when I saw this set — already at an affordable $80 — knocked down to $50 on Prime Day, it felt like a sign. I waited with bated breath for my package to arrive, practically sprinting to the package room to retrieve my lights once they were delivered. I was ready to transform my living room.

For me, the setup took about 20 minutes. Designed for 55- to 65-inch TVs, this system is essentially made up of one long string of LED lights broken up into four segments that are designed to attach to the back of your TV via 3M adhesive backings. After giving my TV a quick wipe-down to ensure it was dust-free, I began to attach the lights. One thing to note: If you have a TV on the smaller side of the spectrum like me (I have a 55-inch) you'll find that the lights overlap a bit when you get to the corners. Thankfully, Govee includes a bag of adhesive clamps that make wrapping and controlling the excess wire a breeze.
The next part is the most important: setting up the camera. Govee's Immersion lights require you to attach the included camera to either the top or bottom of your TV; this is how the strips' lights synchronize with the colors on your screen. After attaching it to your desired location comes the calibration. Simply download the Govee Home app, connect to your home WiFi, and follow the instructions on the app to properly align your camera. Within the Govee Home app, you'll also find tons of settings that allow you to really customize your lights for both video and music with additional settings for both gaming and movies.
Once I had everything ready to roll, I got to testing and was immediately impressed. While I really enjoy the immersive light experience in general, I have to say that sports (particularly soccer with its vivid green field), nature documentaries, and action movies (the way the lights pick up the bright colors of a Marvel movie is breathtaking) were my favorite uses. For me, these lights are an expert piece of modern decor and the ultimate at-home movie viewing must-have. Will everyone be a fan? I can't guarantee that. What I can say is that I don't plan to watch TV without these lights anytime soon.