The Best Thing I've Ever Bought for My Dog, as an Anxious Pet Parent
We
independently
select these products—if you buy from one of our links, we may earn a commission. All prices were accurate at the time of publishing.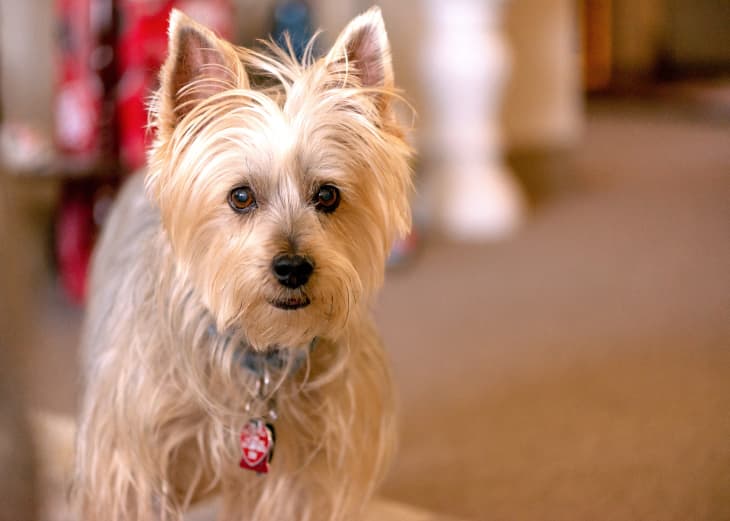 As a dog trainer who is also an anxious pet parent, having a GPS tracker attached to my dog's collar has been one of the best things I've ever done to manage my anxiety. My dog is the center of my world, and one of my biggest fears is that she could get lost. Even though I'm very careful, knowing I can open an app on my phone and instantly know exactly where my dog is gives me so much peace of mind.
What are dog GPS trackers? 
There are a variety of pet GPS collars on the market that can give dog owners a little extra security by letting them monitor their dog's whereabouts. I own both the FitBark and the Fi trackers and love using them both. GPS collars allow dog owners to open an app on their phone and know the exact location of their dog, and even the path they've taken while walking. If your dog were ever to get lost, you could access real-time information to help you locate them more quickly. 
Some dog GPS collars also include activity monitoring features, like many smartwatches have. The trackers collect information about when during the day your pup is most active, how many steps they take, and when they sleep. This information isn't just interesting for you (you can finally know what your dog's up to when you're not home), it can also be beneficial to share with your dog's veterinarian. Monitoring activity trends can help them notice a slowdown, which could be a sign of pain or injury that a vet might not otherwise detect. 
How does a GPS dog collar work?
GPS collars connect to cellular towers allowing you to access your dog's location. To use one, you'll need a (pretty affordable) subscription plan. I pay $69.95 annually for FitBark and $99 annually for Fi, which breaks down to about $6 to $8 per month. Most trackers also allow you to set up safe areas which might be your home, a friend's home where your dog often visits, or your dog's daycare. Then, you'll get push notifications whenever your dog leaves their approved safe locations. Many dog GPS trackers also allow you to add different owners, walkers, or pet sitters so if your dog leaves the home with someone, you'll know who your dog is with and where they're going. It's an especially useful feature if you hire a dog walker, as you can monitor your dog's location and get information about how far they walk and where they go. Or, if your dog were to escape from your yard, you'd get a push notification that your dog is alone.
Why I love having a GPS dog collar
Over the years, I've developed an emotional connection to my dog's GPS trackers. I charge them as religiously as I charge my cell phone (GPS trackers usually have batteries that last several weeks). I never let my dog leave the house without her GPS collar on and I quadruple check the connections before leaving her with a trusted pet sitter. While a GPS collar isn't fulfilling my fantasy of being able to wrap my dog in bubble wrap, it does give me comfort knowing she has an extra layer of connection and safety attached to her collar.
Of course, while the collar is an amazing security feature, it's not a replacement for training and caring for your dog. As a dog trainer, I know how important it is to teach your dog not to dart out when a door opens, keep them leashed when out on walks, and only play off leash in fully fenced areas. If you're leaving your dog in the care of a dog walker or sitter, make sure they are trustworthy and qualified to take proper care of your dog. 
My dog's GPS collar not only helps me keep her safe, but it has also become one of the best ways to manage my anxiety about my dog's safety.  Even though I'm a diligent helicopter dog parent and a dog professional who knows how to handle dogs in practically any situation, I know accidents can happen. A GPS collar increases the likelihood that if my dog were lost, I could find her swiftly, which helps me relax whenever we aren't together.