The "What Would Grandma Do?" Test I Use to Save Money and Practice Mindful Consumption
We independently select these products—if you buy from one of our links, we may earn a commission. All prices were accurate at the time of publishing.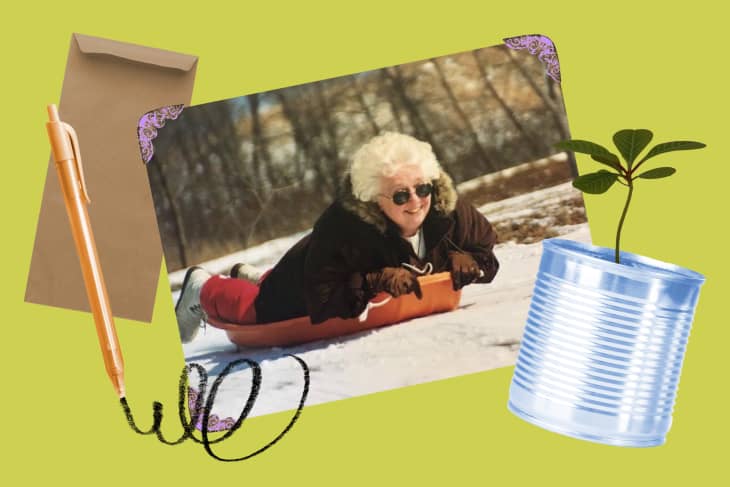 My grandma was born into the Great Depression. She learned not to buy things she didn't need and made do with what she had. I, on the other hand, grew up in the '90s — the era of abundance. Advertisers encouraged disposable conveniences, and fast fashion, furniture, and household gadgets made everything attainable. Before long, anything you wanted was delivered to your doorstep the next day.
Follow Topics for more like this
Follow for more stories like this
Grandma has been gone for a few years now, and I'm living in a complicated era. I am constantly inspired to live an optimized life, and everything I would need to do that is readily available. Yet, I'm also constantly thinking about my carbon footprint and how to eliminate microplastics. 
Lately, I've been running my purchases through the filter of "what would Grandma do?" to assess if I'm practicing mindful consumption, or making sustainability-informed purchases. Would she stress over beautiful centerpieces for holiday dinners? Of course not. Grandma was never well-off, but she had enough. She was the master of repurposing. For instance, she never bought a silverware divider. Instead, she cut old cereal boxes down to the height of her drawer and used them to separate her forks from her spoons. It worked for her, and she had no reason to stop by a store for a solution to a problem she didn't have. She also cut Grandpa's worn socks to use as dishcloths and used envelopes as note paper. To have enough tables for everyone at holiday dinners, she'd take a door off its hinges and prop it up on makeshift legs. And not a single person cared, as we all filled Grandma's home with laughter, love, and puzzles.
I admire that my grandma figured out a DIY solution instead of ordering something for next-day delivery. I can't claim to be as conscientious of a consumer as she was — I bought my first silverware divider in college, and frankly, I don't want to cut up my husband's old socks for dishcloths. But when it was recently my turn to host a holiday dinner, I thought like Grandma. I borrowed folding tables from my relatives and brought my patio chairs into the basement.
My "what would Grandma do?" filter involves asking the following questions:
Am I really going to run on this treadmill, or could I use a sidewalk or gym instead?
Is this a dress I'll wear for years to come, or something trendy I'll want to replace in a year?
Do I need to buy new pots for my plants, or could I repurpose something?
Do I need a new silverware basket right now, or could I take some time and think about a different solution or buy one secondhand?
Two recent purchases that passed the test — meaning I decided they would add genuine value to my life, and not just fill a passing purpose — were a treadmill and a standing desk. My previous desk was not a comfortable size or height, and I decided a standing alternative was a necessity for keeping my job and avoiding expensive orthopedic care. As for the treadmill, I could have run on the sidewalks in my neighborhood, as I see people doing all the time. But I also know that I'm a fair-weather runner who is more likely to stick with it if I run out of the sun and rain, with a fan blowing on me and the distraction of a show playing on the screen in front of me. So after weeks of consideration, I hit the "buy now" button.
When our dishwasher's silverware basket formed holes in the bottom that let spoon and fork handles slip through, though, I found a DIY solution: Instead of buying a new basket, I used a couple of thin zip ties that we had lying around to fill in the gaps. Problem solved, with no plastic thrown in a landfill.  The "what would Grandma do?" rule never fails to save me some money, help me think more creatively about what I have, and feel sure about the things I do buy — it's why I keep her wisdom tucked in my back pocket all the time.