Why My Grandma's Cleaning Essential Will Always Be in My Kitchen
We independently select these products—if you buy from one of our links, we may earn a commission. All prices were accurate at the time of publishing.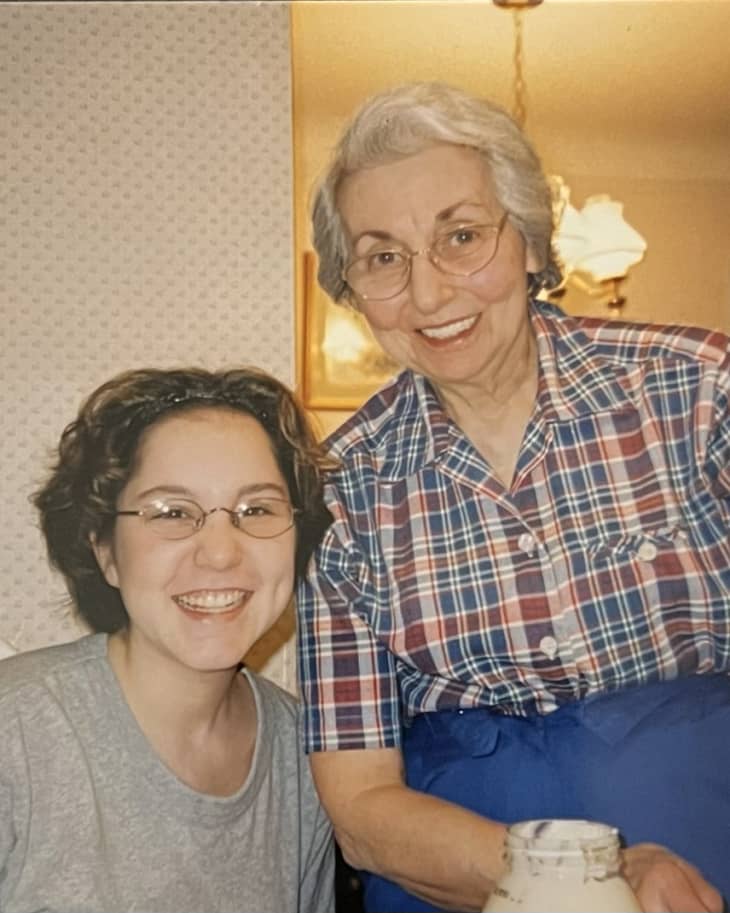 Walk into any kitchen in my family, and you'll notice one common item on the counter. We're not talking dish soap or sponges here. No, the one thing every person in my family uses, without fail? A pair of rubber gloves.
Follow Topics for more like this
Follow for more stories like this
To hear my Bubby tell it, she started using rubber gloves because her skin was too sensitive to deal with the ingredients in most cleaning products. So, every time I'd walk into her kitchen, there they were. A pair of rubber gloves flopped halfway over the counter and into the sink, just waiting for the next time she'd slip them on.
The gloves were always a substantial rubber, and always, always a vibrant canary yellow. While I don't necessarily recall the specific brand she used, the color was that bright color reminiscent of Tweety Bird. In our home, washing dishes was a communal activity; we spent many an evening having one of my grandma's delicious dinners, then cleaning as a family. Rambunctious laughter and intriguing conversation, all while making the kitchen spotless. One person would wash, another would dry, a third put everything away — and, always, at the center of it all, was that iconic pair of yellow rubber gloves.
It's a habit (and a sensitive skin gene) that's been passed down through the generations. My mom always uses them, too, and now, so do I. In my first apartment, shared with two friends my senior year of college, there sat my very first pair of yellow rubber gloves. I remember one of my roommates wondering why, exactly, we had to have them — and, if so, could we at least keep them under the sink and out of view? Shocked, I told him that was absolutely not the way it was done in my family. They must have their place of reverence on the counter! He not only succumbed to my demand, but he even used them when he would do the dishes. There's just something about them that makes you feel more efficient.
As far as my family is concerned, rubber gloves are an absolute kitchen essential. With our sensitive skin, protecting hands from harsh ingredients is always paramount. Additionally, while it's important to wash dishes in hot water, rubber gloves keep your hands from being scalded (for me, that means bright red and raw for hours). Plus, when you wash dishes with rubber gloves, they help keep your manicure in tip-top shape. In fact, a manicurist friend once told me that was her best trick for keeping her nails fresh and paint intact between nail appointments. 
While all of these reasons make washing dishes with rubber gloves something I'll do forever, really, I love that it connects me to previous generations of the incredibly strong women in my family. In recent years, they've evolved from yellow to a rotating trio of hot pink, lime green, and bold orange, primarily because it became increasingly difficult to find those yellow ones of my past. 
I think about my grandma every time I slip on my own pair. I have a feeling she wouldn't mind the color, as long as I've got them on my hands. And I think of those rare moments when it wasn't the whole family in the kitchen, but just her and me — her pinching my cheek and saying, "Hi, Honeybunch!" before she slipped on those bright rubber gloves.