The Once-Popular Kitchen Counter Style Real Estate Pros Say Is Outdated
We
independently
select these products—if you buy from one of our links, we may earn a commission. All prices were accurate at the time of publishing.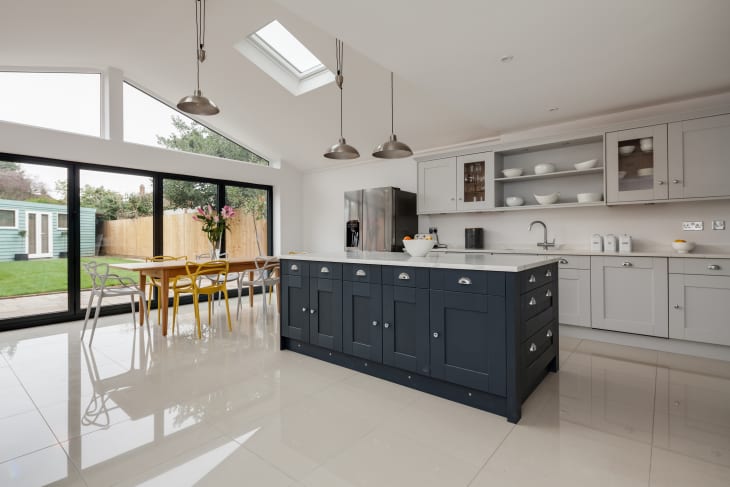 It seems like just yesterday that granite kitchen countertops were the must-have upgrade in any new home purchase. Perhaps a victim of its popularity, the once-popular kitchen counter style is outdated at some price points — and among certain buyers. 
According to the National Kitchen and Bath Association, demand for quartz countertops continues to rise while the desire for granite wanes. Granite kitchen counters used to turn heads. Now, more real estate agents notice homebuyers giving granite the side-eye.
"I have trouble selling a house that doesn't have granite, at least," says Susanna Haynie, a real estate broker in Colorado Springs, Colorado. "So you have to have granite, and I see that in every price range. But once you go past $600,000, $700,000, which is very close to the average sales price in Colorado Springs, people want quartz."
Quartz countertops are engineered stone made from a blend of 90 percent natural materials — marble, granite, quartz, ceramic, glass — and 10 percent polymeric material used to bind the other elements. With quartz, you get the look of natural stone without the flaws or maintenance issues. 
Keara Hunter, a real estate agent with Keller Williams on Alabama's Gulf Coast, says she sees the anti-granite attitude among her experienced buyers who might be looking for a forever home. 

"I work with first-time homebuyers, bargain homebuyers, and I sell million-dollar homes — and those buyers are more picky," Hunter says. "If I'm showing a $700,000 home, they'll walk in there and be like, 'This house is beautiful, but these countertops are granite, and it looks like the kind of countertops I had in my first house when I was 25 years old.'"
Hunter says she recently showed buyers a model home in a new development in which a national builder offered quartz countertops as a standard feature in seven properties priced under $400,000. "These countertops were gorgeous. It really got people in," she says. "I think it helped sell those first ones, but then everyone else was disappointed. You know, they may have lost some sales because people had to upgrade to quartz after that or settle for granite."
Settle for granite? The natural stone in millions of homes remains as durable as ever. While it may have lost its luster for some, it remains a solid choice for plenty of buyers and homeowners. A choice in countertops often comes down to personal taste and budget. 
Still, there are many reasons quartz countertops are winning right now, including the variety of colors available and the engineered stone's sustainability. 

"Quartz requires less maintenance. With the granite, you have to seal it every year because it's porous," says Danielle Carter, a Nashville-based Realtor with Benchmark Realty. 

Carter noticed the demand for quartz and disdain for granite among millennials and urbanites who like a sleek, pristine look in kitchens. 

"Quartz goes with everything," Haynie adds. "When you have a specialty granite, especially like a reddish-brown granite or a yellow-brown, it's just so out of style."