A Graphic Designer's Putting Her Colorful Stamp on a 100-Year-Old Cottage While Honoring Its History
We independently select these products—if you buy from one of our links, we may earn a commission. All prices were accurate at the time of publishing.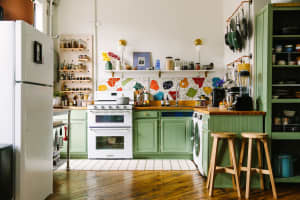 Can't-Miss House Tours Straight to Your Inbox
Keep up with our latest house tours each weekday with our House Tour of the Day newsletter
Name: Sophie Elinor
Location: Newcastle — NSW, Australia
Type of home: A 100-year-old miner's cottage
Size: 1,150 square feet
Years lived in: 12 years, owned
Tell us a little (or a lot) about your home and the people who live there: My house used to belong to my Nan, Heather. She was a fiercely independent and dazzling woman who worked as a dressmaker, and she single-handedly raised my mum and aunty here. Her house was always a safe, welcoming space for cousins twice-removed and friends of friends.
I have so many happy childhood memories from here, too: climbing the huge frangipani tree out the back with my brothers, learning to bake Anzac biscuits in the kitchen, trying on all the brooches and clip-on earrings in Nan's jewelry box…
When I was a teenager, Nan got dementia and had to move out of her beloved home, and a few years after that she passed away. My mum rented the house out, off and on, but when I finished university I decided to move to Newcastle. The house was empty at that point, so I moved in.
I rented and worked and saved and eventually pulled together enough for a deposit. In 2017 — on what would have been my Nan's birthday — I bought the house on my own. That was only possible because I bought directly from my mum, the housing market is an absolute mess!
Even before my Nan lived there, the house had a long history. It's over 100 years old, and it's beautifully wonky and full of character.
Since buying it, I've been slowly peeling back the layers of dusty carpet and shining up the floorboards that were buried underneath, bringing in more light with bigger windows, fixing up the bathroom, and touching up the kitchen. It's a perpetual work in progress, but it feels good to see it grow.
There was already so much love in the house, but I've worked really hard at pulling joy to the surface. Color has always been important to me, and more is more, so the collective aesthetic is pretty bold! I try to be really thoughtful with what I bring into my home, though, so a lot of the furnishings, decor, and artwork is handmade by family, friends, and artists I love.
Like a lot of anxious millennials, I've filled my house with far too many plants. I like to think they bring a sense of calm and tranquillity that offsets the cacophony of color!
I'm putting my own stamp on the place while trying to honor its history. It's really special when family come to visit, and can enjoy the new chapter that builds on the original story.
You can see pieces of my dad all over the house — the bathroom vanity he built from rosewood that belonged to his dad who I never got to meet, the bench he made from pieces of my childhood cubby house, the stand-up mirror he created from an old timber bed frame that has the literal imprints of his grandparents in it.
Of course my mum is all over the house as well, having grown up in it. It's a unique thrill to paint murals on the walls there with her, when once upon a time that kind of behavior would've got her in trouble! She is always encouraging me to make the place my own. It makes us both happy.
The typographer in me loves decorating with type, and the house is peppered with large-scale, papier-mâché lettering I've created for various design projects and exhibitions.
I'm also just a bit of a silly goose, and I like to let that shine though in places, too. For instance, my bathroom door is a cavity slider, so I turned it into a retractable, peek-a-boo mural featuring those wacky inflatable tube men you see in car yards. Why not?!
Describe your home's style in 5 words or less: Colorful, sentimental, arty, jungle-y, and joyful.
What is your favorite room and why? My small sunroom home office at the front of the house was once a verandah, but decades ago it was bricked in to become part of the interior. The space gets the most beautiful morning light, and my plants grow wild in there. My desk sits underneath a big bank of louvre windows, looking out onto my cottage garden and the street below. It's a little voyeuristic, but I love eavesdropping on passers-by, like gardeners admiring whatever is currently in bloom, or little kids excitedly pointing out my rainbow front steps to their parents.
The space has evolved with me over time, and is now full of bright, vibrant artwork — some my own, some that I have collected. The combination of light, greenery, and color always makes me feel grounded and creatively stimulated.
When my Nan lived here, this was the room where she did all of her dressmaking, so sometimes it feels like that generational creativity is baked into the walls.
What's the last thing you bought (or found!) for your home? My most recent decor addition is something I created myself. I decided I needed a giant pencil in my life, so I made one! It's made from recycled cardboard, it's taller than I am, and it has an "eraser" on the end covered in 1,500 pink rhinestones. It is a profoundly silly object but I love it so much.
On a tangentially silly note, I've also been making melty, shelf-y disco eggs (with bedazzled yolks), lately. I've been popping them all around the house and they add instant whimsy!
Any advice for creating a home you love? This has been an ongoing process, trying to pay attention to what makes me feel good. Design trends are always coming and going, but the things that bring me joy are fairly constant.
I love coming home through my bright yellow front door, greeted by a disco ball planter, under a canopy of rainbow streamers stretched across the ceiling. Sure it's a bit like arriving at a kid's party every day, but it's hard not to feel happy in space like that.
Your home is for you, and if you're into kitsch or kooky or kinda out-there aesthetics, embrace it. A home filled with personality is easy to love.