This Travel-Friendly Weighted Blanket Is Coming With Me Everywhere Over the Summer (and It's On Sale!)
We independently select these products—if you buy from one of our links, we may earn a commission. All prices were accurate at the time of publishing.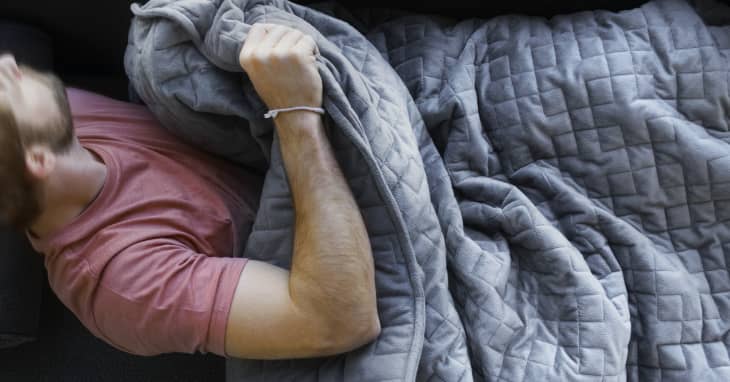 I'll admit it: I'm the person on the road trip who falls asleep first. I don't know what it is, but as soon as we're out of the city, it's lights out. That's why I make sure to have a cozy blanket on hand, and I love testing new options. Over the summer, I tried out a chunky-knit travel blanket (that comes with its own duffel bag!), and the latest to cross my path is its exact opposite. The Gravity Flex Travel Blanket is a sleek weighted blanket that's not only just the right size to take on the go, but it's a fantastic option if you've always wanted a weighted blanket and aren't sure where to start. Best of all, right now you can snag one of your own on sale. (Hint: At that price, they're great for gifting, too.)
Follow Topics for more like this
Follow for more stories like this
The Gravity Flex weighs 10 pounds and measures 60" x 40", which is six inches smaller than a standard Gravity blanket. Available in black or grey, it arrives neatly packed in its own color-coordinated 22″x 9″ drawstring bag that's so compact it can fit into a weekender or larger carry-on. The glass-bead filling is stitched into small panels that keep them evenly distributed regardless of how the blanket is draped. I've had this blanket pulled up to my neck, thrown over my lap, and covering my shoulders and never felt like one side was weighing down more heavily than the other.
The Flex blanket has a breathable moisture-wicking fabric that stays cool even while keeping you warm. Ten pounds may or may not sound like a lot of weight to you, but it's just enough for leisurely comfort without being overwhelming. It's machine washable in cold water, and you can even dry it (on low).
I haven't had a chance to test it on a flight yet, but I could tell right away that the Gravity Flex Travel Blanket is super convenient for travel. You can hold the adjustable strap on the bag by hand or loosen it to sling over your shoulder. Most importantly, the blanket is easy to roll up and repack without any complicated maneuvering. Since I'll be traveling for the holidays this year, I'm excited to give this blanket an actual road test. If naps with this weighted blanket on the go are as good as they are at home, I'm in for a treat!