Before and After: A Standard Front Door Gets a Modern New Look (Yes, It's the Same Door!)
We independently select these products—if you buy from one of our links, we may earn a commission. All prices were accurate at the time of publishing.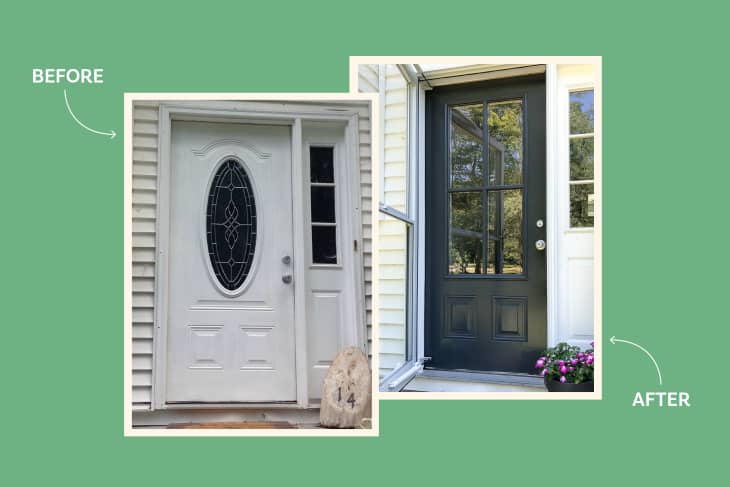 Looking for a way to make your front door stand out from the rest in the neighborhood? Apartment Therapy has plenty of tips for just that: Paint it, put a wreath on it, add some sleek sconces on either side, or, if you're feeling ambitious like Tara Boettger (@justcallmehomegirl), swap out the door lites (aka the glass windows in front).
Follow Topics for more like this
Follow for more stories like this
Tara's front door started out "boring, white, [and] dirty," she writes on her blog. It also had the standard, oval-shaped, ornate door lite that many traditional homes have, and Tara was looking for something that felt a little more "her."
"The glass in the door still wasn't really my style or really my home's style either," Tara writes. "It didn't let a ton of light in, and I didn't like that I couldn't see through the glass."
Rather than completely replace the door, Tara decided to make it over with a more modern touch. "I wanted a ton of light, something I could see through, and something that fit more with our style house that is a raised ranch/split entry," she says on her blog. She used a 24″ x 50″ glass kit for the redo, which required her to cut into her door with a jigsaw.
"Cutting the door was easier than I thought it would be," she says. "Measuring for the new insert was a little nerve-wracking to get it right." She says she spent about an hour perfecting the measurements, and her dad helped her with making the cuts. They had to use a blade made for metal to make sure their cuts were clean.
"After making four pilot holes with my drill in each corner, I cut out one side first and flipped it over and cut the other side," she explains on her blog. "You don't want to try to cut both sides out at the same time."
Once everything was (very precisely) cut, installing the new paned glass kit was easy. Once she securely fitted it in place, Tara painted the door a deep charcoal color (Valspar's Chimney Smoke).
Tara says she's pleased with the way the door looks both from the outside and inside. "I love the amount of light it lets in to our entryway, and I love the style," she says. Eagle-eyed readers will also note that she painted her ranch's brick exterior to boost the curb appeal even more. For more quick curb appeal inspiration, check out these 22 project ideas for making your home the standout on the block — in the best way.