There Has Never Been a Better Time to Install a Green Roof
We independently select these products—if you buy from one of our links, we may earn a commission. All prices were accurate at the time of publishing.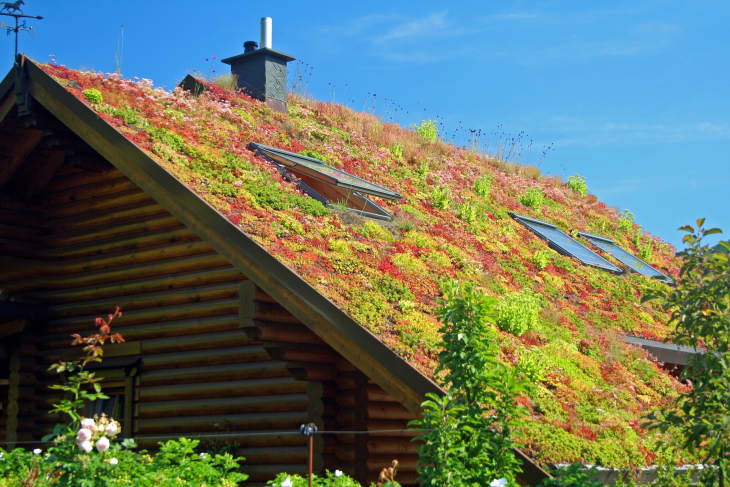 When you think of home additions that count as wins for the planet, solar panels probably come to mind. But there's another eco-friendly add-on that's gaining traction in both the 'burbs and urban areas that you may not have considered: a green roof, which transforms your boring ol' rooftop into a lush garden. If you became an avid gardener amid the pandemic, a green roof may take your homesteading to new heights.
Follow Topics for more like this
Follow for more stories like this
Somerville, Massachusetts-based Recover Green Roofs is among the companies that have been pioneering these types of projects: installing gardens, roof decks, and farms on top of residential and commercial buildings. Some of their biggest projects include a 17,000-square-foot rooftop farm with hyper-local produce for a Whole Foods Market, and Fenway Farms, a rooftop garden at Boston's Fenway Park that grows arugula, lettuce, tomatoes, peppers, eggplants, and more.
The company also installs scaled-down gardens on residential rooftops, which, beyond the cool factor, comes with a number of perks. Not only do you have your very own produce aisle on top of your home, but these green roofs give way to improved air quality and energy savings, because the green roof technology significantly lowers the temperature of your roof, translating to lower cooling costs. 
The base rate for a green roof runs between $25 to $40 per square foot, with things like plant palettes and other customizable design elements factored in. Customers can get quite creative, too: One homeowner has a carport garden that grows mint, basil, peppers, kale, and strawberries and, as a part of the project, Recover Green Roofs installed custom-built ladders and walking paths.
Plus, when you go to sell your home, a garden roof could drive up the value of your property, explains Ryan Whitcher, real estate investor with Harmony Home Buyers. "This would be a huge advantage, especially in urban environments where yards are small or scarce," he says.
Jesse Silkoff, the CEO of MyRoofingPal, an online marketplace that connects people with home improvement contractors, says there tend to be two styles for green roofs: those that are covered in plants and grasses, and others that have garden plots as well as a space to sit on the roof.

"In addition to aesthetics and environmental benefits, green roofs can help to make your home more fire-retardant and even quieter," Skilhoff says.
Another surprising advantage? A green roof can help protect the real roof underneath.
"One benefit of green roofs is that they actually help to protect membranes from the elements such as sunlight and loose debris that can cause damage, so installing a green roof on a freshly membraned roof can significantly extend the lifespan of that membrane," says Brynn Bernheimer, with Recover Green Roofs.
If you're curious as to whether a green roof is right for you, there are a few things you should consider, Bernheimer explains. A flat roof, she says, is ideal for a green roof, but it's possible to build on sloped roofs, too. Proper drainage and wind uplift are considered in the design and installation process, and you'll also need to think about things like HOA regulations, zoning regulations, and the age and condition of your roof.
Green roofs may be the next luxury residential perk for condominiums as well. The Reed at Southbank, a 41-story high-rise situated along the Chicago River that's set to open in 2023, will feature a rooftop farm operated by The Roof Crop. Residents and local restaurants will have access to fresh honey, herbs, produce and flowers grown on-site, says Linda Kozloski, creative design director at real estate group Lendlease.
It seems your 2021 home improvement project has just selected itself.