6 Easy Under $50 (or Free!) Group Games to Play Outside
We independently select these products—if you buy from one of our links, we may earn a commission. All prices were accurate at the time of publishing.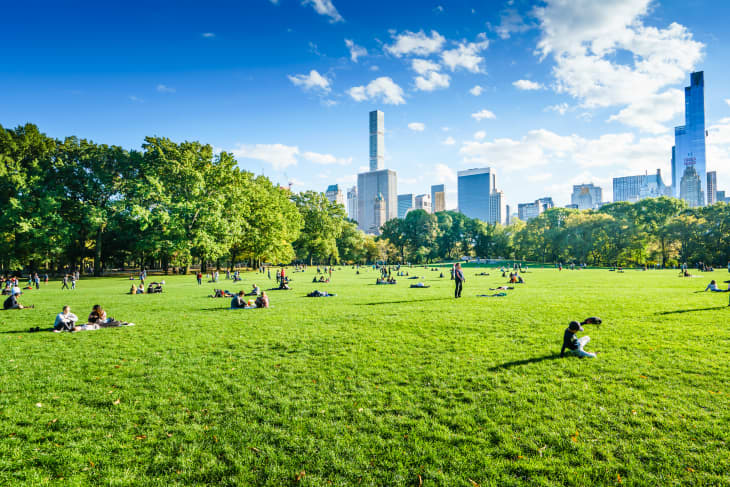 When spring weather finally starts to peek through, every social invitation turns into an excuse to bask in the warm, sunny weather. But how many rosé happy hours can you realistically meet up for? At some point, you may want to introduce a new activity into the outdoor itinerary, so I'm proposing that this spring season is the one to bring back the yard game. From weekends in the park to backyard barbecues to beachfront picnics, almost any outdoor occasion could benefit from a bit of friendly competition.  
Follow Topics for more like this
Follow for more stories like this
And, while everyone loves a good game of cornhole or bocce ball, they aren't the only group games you can play outdoors. Here are six options for group games for adults (and kids, too!) to play outside, all of which are either free or cost under $50 to set up. 
Games like capture the flag and hide-and-seek seem like they involve a lot of running and cardio, but a wheelbarrow race, now that's just fun, right? As long as you have enough people to pair off into groups, you don't need anything else — except, perhaps, a high tolerance for goofy games. 
Don't remember how to play this childhood game? One person is on their hands, with their legs in the other person's hands (like a wheelbarrow) and you race towards the finish line. Will everyone make it? That's the fun of the game!
Want to relive your college days? But without the light beer? This supersized pong set uses buckets and tennis balls instead of red solo cups and ping pong balls, no liquid required. It's easy to transport so it's perfect for beach days and cookouts.
Have a piece of chalk? Draw up your own tic-tac-toe board in the driveway or on the sidewalk. This nostalgic game is super simple and drawing out those big, colorful X's and O's in sidewalk chalk will bring the childhood memories flooding back.
Prefer to buy a board? This giant lawn game board is great for your next outdoor party or Sunday afternoon in the park. 
With just a soft, bouncy ball (grab your workout ball if you're into barre or pilates!), you can bring back good old-fashioned dodgeball. All you need is two teams of three or more people and a willingness to throw the ball at the other team in a take-no-prisoners style. Once you're hit, you're out. Last man standing wins. 
This lawn game is a slightly unconventional choice. Ladderball is like the higher stakes cousin of corn hole, with weighted "bolas" that are tossed through the air, in the hopes they'll wrap themselves around a particular rung to score a certain number of points. It's a combination of luck and skill, and you'll find yourself asking for just one more game until you've mastered it.
A rowdy game of flag football, with its red and blue flowing plastic belts, will bring back all the memories of elementary school P.E. class. But it's an easy game to catch on and, if you have a group that's up for a more physical endeavor, this can be a fun afternoon in the park. You don't really need the official flag football set — any marker you can tuck in a waistband will do, whether that's a scarf, paper, or a piece of fabric. You can get as official with it as you want, or turn it into a glorified game of tag.