Hailey Bieber's Kitchen Counters Have a "Bit of Chaos" and Two Air Fryers
We
independently
select these products—if you buy from one of our links, we may earn a commission. All prices were accurate at the time of publishing.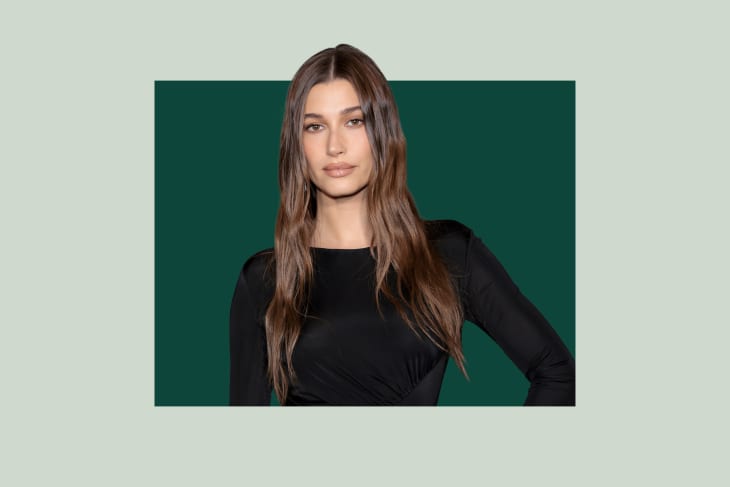 Let's all snag a look into Hailey and Justin Bieber's refrigerator, shall we?
In a hand-held video tour of her home's kitchen posted to her YouTube channel on Nov. 9, Hailey takes viewers to examine the ins and outs of her marble-filled dream kitchen. While it's not the first time she's shown off her cookspace, this time, she gets a lot more in-depth with the tour. 
As you'd expect, the Bieber family's kitchen is a stunning, light-filled space. An organized and labeled spice rack sitting on a shelf over the stove is the picture of organization. However, it's also kind of a relief to see a variety of other spices, bottles of vinegar, and oils crowding the counter beside it. In fact, many of the counters have a surprising amount of items hanging out on them, which Bieber acknowledges. "I almost like a slight bit of chaos to the kitchen," she says, before realizing she should've organized a bit more before recording the video. Relatable!
Hexclad pans and bowls sit on the stove (they're the sponsor for the video, if you're wondering why she's calling them out) while two air fryers sit on her kitchen counter. (Bieber claims she needs two because "sometimes I'm trying to cook multiple things that don't fit in one." Honestly, we hear ya.) She's also a slow cooker enthusiast.
A coffee station has a Nespresso machine, an electric tea kettle, a Cuzen Matcha machine, and plenty of Chamberlain Coffee ("which we love"). There's a large center island (adorned with a Hexclad cutting board, of course) and a magnetized knife holder sitting on top. A deep marble sink features brass hardware, and that weird single sponge that every human has in their home but is afraid to touch. There's also a cute window that overlooks the backyard, where an herb garden holds court. 

"I was top to bottom heavily involved in the design of the house in general but even more so with the kitchen because the kitchen is a space that you spend a lot, a lot of time in," Bieber said. 
Bieber does reveal one quick look into her very organized refrigerator and freezers, to which we've zoomed in and frozen the screen about five times. The freezer is filled with Cosmic Bliss ice cream, which the entrepreneur mentions she may be working on a little something with, so prep yourself for that eventual collaboration. Another unique feature in the space is two paintings sitting on a marble shelf that have been done over by none other than Justin himself.

"My husband decided to put his own spin on them, and they have lived there ever since," Hailey noted, pointing out the two paintings that now have "GOT MILK" and "THE KITCHEN" written over them in thick black. At least she'll never forget where she is!

Above all, Bieber conveys that she loves to entertain guests in her kitchen, especially since it opens up into their living space, which is not revealed. 

"So even on Super Bowl Sunday, we had a big Super Bowl party," she concludes. "I like connecting over food. So I do feel like we spend a lot of time in the kitchen."