The 7 Biggest Pet Peeves Real Estate Agents Have About Your Half Bathroom
We independently select these products—if you buy from one of our links, we may earn a commission. All prices were accurate at the time of publishing.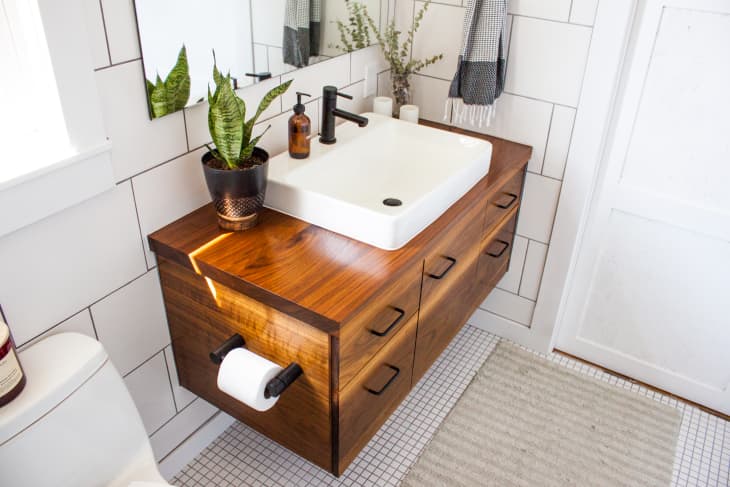 Especially in tiny apartments, half bathrooms are a huge bonus. Commonly used for guests, powder rooms — despite their size — have an air of luxury to them. The downside of their teeny dimensions? A half bathroom becomes easily cluttered.
That's why real estate agents have a slew of pet peeves when it comes to the upkeep of your half bath, particularly during showings. From a counter strewn with cosmetics to a visible Squatty Potty (yes, you heard that right), here are seven pesky bathroom mistakes realtors wish you'd kick once and for all.
Some people swear by the Squatty Potty. But when you're showing an apartment, Michael J. Franco, a broker with Compass, says they should always be hidden. "Anything that emphasizes the commode should not be present," he says. Plus, Squatty Potties take up valuable floor space, making an already small room appear even smaller.
Soft toilet lid covers are another busy feature that can distract from the actual powder room. If you're only using a cover to hide a worn-out lid, Franco says it won't break the bank to simply replace it. "It's a great investment to replace the toilet seat and the lid," he says. "And it's inexpensive."
According to Lisa Chajet, a broker at Warburg Realty, a crowded bathroom counter isn't a good look in any room, half bath or not. "A heavily crowded [counter] with shaving cream and razors is just not going to look good," she says.  
When you're showing a property, hide any toilet cleaners out in the open. "I see plungers, I see toilet bowl cleaners, and even if they're decorative and from a fancy store, it's still a toilet bowl cleaner. Everybody knows what it is," Franco says. "There's no reason to keep that out while you're showing an apartment."
Themed half bathrooms often have bright, stimulating decor, including wallpaper. "If you've got a small powder room with heavy wallpaper with, [say], animal prints, it's just going to detract from [the room]," Chajet says. So it's best to make your small bathroom more minimalist or carefully curate your color palette before selling your place.
There's nothing worse than a dirty bath mat. Franco says this is one of his biggest pet peeves in half bathrooms. When you're showing an apartment, he says to replace worn bath mats with fresh ones. And if your apartment isn't too clean to begin with, he says "everything should be professionally deep cleaned."
One of the most dreaded household tasks is deep cleaning grout. Although it's laborious, Franco says cleaning or re-grouting tile can really make a half bath look brand new. And on the plus side, since powder rooms are smaller, the much-dreaded grout-cleaning won't take nearly as long as re-grouting other rooms in the home.