Inside the Spooky World of Halloween Super Decorators
We independently select these products—if you buy from one of our links, we may earn a commission. All prices were accurate at the time of publishing.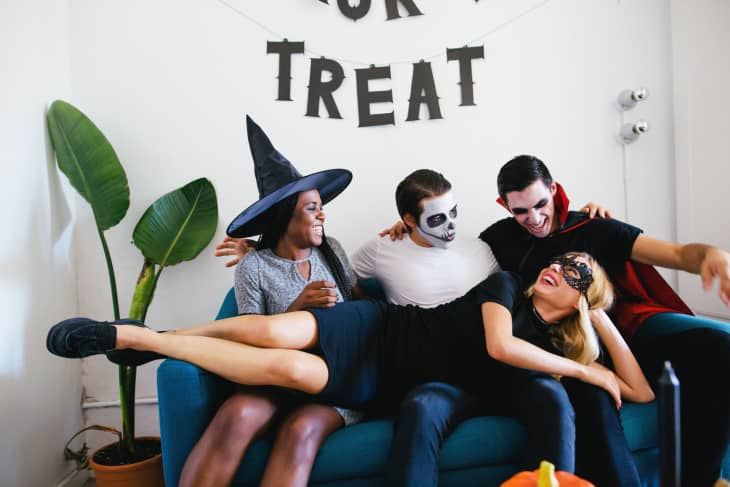 Jennifer Perkins works as a brand ambassador for a Christmas tree company, but take a peek inside her Austin home around this time of the year and you'll quickly realize that she maintains a Halloween forest: a pink tree dressed in vintage cameras and topped with witches feet, a purple tree showcasing vintage masks, and a rainbow tree with creepy carnival vibes, to name a few.
To put it in Jennifer's words, this kind of decorating "thinks beyond the pumpkin." It requires elaborate planning well in advance, wandering through thrift stores all year long to find that special spooky something, and spending hours editing to make that Frankenstein mask topper look juuuust right.
Follow Topics for more like this
Follow for more stories like this
Jennifer is far from being the only one to think about Halloween decorating in such a meticulous way, dedicating weeks leading up to Oct. 31 surrounded by trinkets, knick-knacks, and ornamentation that seem extreme to people who think a single jack 'o lantern suffices as Halloween decor. We came up with a name for these impressive—almost to the point of being supernatural—people who walk among us: Halloween Super Decorators.
These loyalists are the Christmas village fanatics of Halloween, and we talked to three of them who embody the commitment and spirit of what it means to be a HSD. Who knows, maybe you'll get so inspired that you'll be on our list next year.
Jennifer Perkins: Campy Forest with Colorful Trees in Austin, TX
Forget the bloody zombie hands and terrifying creepy dolls, Jennifer Perkins takes pride in trading in terrifying for colorful and campy vintage decor, just like her trees. She started going to flea markets with her mom at a young age, where she developed a love for hunting for Halloween goods. "You could pull up to almost any flea market and find something for Christmas, but Halloween is a little harder because they didn't make as much back [when I was going up], like vintage costumes and such," Jennifer told Apartment Therapy. "I like the thrill of hunting for Halloween because it's more challenging."
Jennifer's Halloween trees serve as focal points within each room, inspiring the palette and style of the surrounding space. For example, the pink tree pictured—which Jennifer had never seen before and needed to have—inspired additional touches in the room, like the pink garlands and wreaths, as well as the black and white pumpkins. Jennifer also incorporated vintage masks that she's collected over time in unique ways, like by nestling them in the branches of her purple tree, or around her living room's starburst mirror.
For anyone looking to get more into Halloween decorating, Jennifer recommends taking time to collect unique items you truly love. Another tip: Shop your own home. "Don't underestimate the things you already have around the house that could be restyled with a pumpkin and made into something for Halloween," Jennifer said. "You might have a whole set of Halloween decorations in your house and not even realize it."
Janet and Jerry Huckabee: Spooky Block Partiers in Kissimmee, FL
Last year, Janet and Jerry Huckabee retired to an active senior community in Florida, where they decided to take up elaborate holiday decorating. The Huckabees quickly noticed that, like in many neighborhoods, Christmas decorating was extremely popular while Halloween took a spot on the back burner. So this year, Janet, Jerry, and some of their neighbors set out to change that—by decorating all 20 houses on their street and throwing the ultimate block party.
"It's a senior community, so not a lot of people want to put the work into doing decorations," Janet told Apartment Therapy. "[Our neighbor] and I realized we had enough for lots of people and there were other things we could make, so we got everybody on the street to agree to let us put up our decorations."
In addition to taking thrift trip after thrift trip, Jerry and his friends got busy with making some of the decorations, including life-sized tombstones that had laser-cut inscriptions with punny names like "Anita Shovel" and "Dee Cayen." As Janet says, the decorations are really "anything you can think of": a car crash scene with skeletons falling out, a clown that pops out of a trash can, lawn chairs with skeletons sunning themselves (because Florida), even a massive pirate ship where one neighbor plans to dress up and serve rum punch.
All 200 houses in the Huckabees' subdivision are invited to this massive Halloween extravaganza, with more possibly expected to come, thanks to word of mouth. The decorations are custom-made, zany, and thematic, but most of all they are bringing a community together through Halloween. And that's an effort worth decorating for.
Laura Lee: Black and Orange with a Natural Twist in Houston, TX
While most people acknowledge Halloween one season out of the year, Laura Lee's year-round Halloween-inspired office pays homage to her love for the holiday (you can see more from her recent house tour). While the decor naturally spreads throughout her entire home around Halloween, the focal point remains in the office where Laura has a faux tree branch with leaves that sums up her vintage-meets-natural style.
"I always have a vintage Halloween style with a lot of natural elements," Laura told Apartment Therapy. "I'm going from Massachusetts, where we had beautiful fall, to Houston, Texas, which is sub-tropical and is such a downer. I love the nature and I love being outside, so I try to recreate that as much as I can in my house."
Following a classic black and orange color palette and strong gothic underlay, Laura's space is always filled with various vintage items that she found in thrift stores and HomeGoods as well as through her Halloween community on Instagram (see all her finds on her Instagram @thehalloweencollector). But among the draped spider webs, too-many-to-count pumpkins, and bright orange tree, her favorite piece is always the tree mural, which she hand sketches with chalk across black IKEA fabric and hangs up as wallpaper.
Laura's advice to aspiring Halloween decorators: "It's important to be yourself. If you want to have holiday decor up all-year round, you should really just do it. When I first started to leave it out all-year round, I had a small shelf in the hallway of my apartment and I thought, you know I better hide it. Then I was like, no I love this, it makes me happy! If it makes you happy, then it's right."