The Unique Approach to Hanging Art You've Probably Never Thought Of
We independently select these products—if you buy from one of our links, we may earn a commission. All prices were accurate at the time of publishing.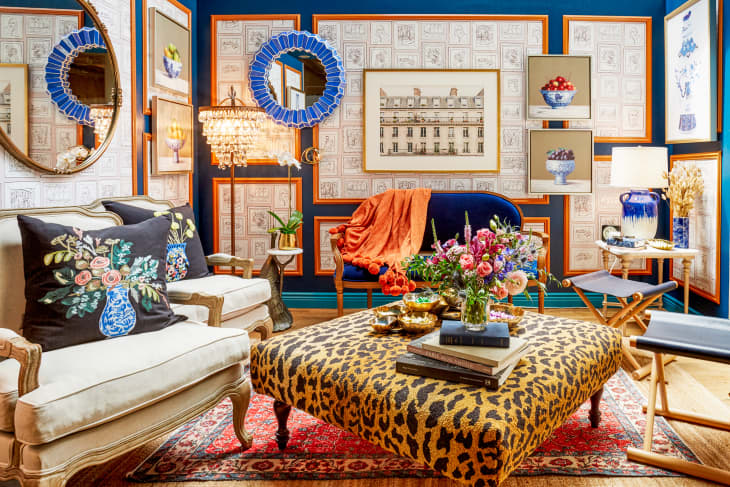 The Small/Cool Experience is a shoppable online home design showcase and social event full of decorating tips and tricks from your favorite designers. Thank you to our sponsors BEHR® Paint, Genesis G70, LUMAS, Overstock, Tuft & Needle, Chasing Paper, and Interior Define for making this experience possible.
There seem to be plenty of unofficial rules when it comes to hanging art. Some designers swear by hanging framed pieces at eye level. Others say it's better to eyeball what looks best, depending on the ceiling height and what kind of furniture is in a room. And that's not to mention the wealth of tips and tricks for creating the perfect gallery wall, from going freestyle to sketching a carefully planned layout.
Of course, how you select and hang up your art is a matter of taste and personal preference. But there's one approach that you likely haven't tried yet, and it was introduced to us in the Classic Redux room curated by designer Noz Nozawa at Apartment Therapy's Small Cool Experience.
The approach in question? Hanging art outside of — and on top of — wall moldings. Granted, you need to have wall moldings in the first place for this to work, but it's a creative, out-of-the-box way to display paintings and photos in a space with charming architectural details.
In her design, Nozawa layered still-life paintings on top of rectangular moldings that are filled in with wallpaper. It's a bold, show-stopping look in the small space, but could work just as well with more minimalist aesthetics (and in a larger room), too. Tacking up a painting or a poster on some blank white molding achieves an equally unique, albeit more simple, effect.
"A symmetrical room, thoughtfulness around furniture proportions, and attention to balanced ornamentation are always timeless," Nozawa says of the space. 
And balancing art on built-in ornamentation like molding? That'll prove to be timeless soon enough.