Helena's "Laura Ingalls meets Pottery Barn" Cabin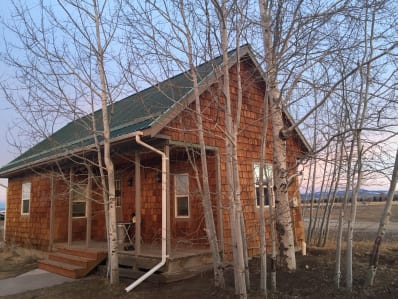 (Image credit: Submitted by Helena)
Name: Helena
Location: Springhill — Belgrade, Montana
After almost 5 months of moving around, I finally wanted to create a space all my own. Having a "cabin in the woods" has long been a dream of mine (does anyone NOT have this dream?), I was so excited to fill it (but not too much, you know, because minimalism and such...) with things that I loved, or reminded me of people or places that were important to me.
(Image credit: Submitted by Helena)
Thus was born the "Tiny Home on the Range" as it has been dubbed, a 600-square foot cottage in the rolling foothills beside Montana's Bridger Range. Granted, it is not a true "TinyHome," but after moving in, I realized 600 feet is probably the tiniest I care to go. Nevertheless, the home fits my needs perfectly. It is warm and inviting at the end of the day, and the somewhat un-optional lack of T.V. and Wifi means that I get to spend more time doing things I actually love, such as reading, cooking, and building DIY projects!
(Image credit: Submitted by Helena)
My friends and I like to joke that it the cabin is "Laura Ingalls meets Pottery Barn" ...which is somewhat true. The house features vintage prints from the beloved series -my favorite growing up- along with several DIY projects that are shamelessly Pottery-Barn inspired.
(Image credit: Submitted by Helena)
Likewise, the decor simultaneously pays homage to my North Carolina hunting roots, penchant for plants and animals, and love affair for old-timey antiques.
(Image credit: Submitted by Helena)
It is my hope that, as I meet more folks and make new friends here in Big Sky Country, that my home can be a place of warmth, good food, and laughter for years to come.
Thanks, Helena!
• Interested in sharing your home with Apartment Therapy? Contact the editors through our House Tour & House Call Submission Form.