Here's How Much It Costs To Be On Fixer Upper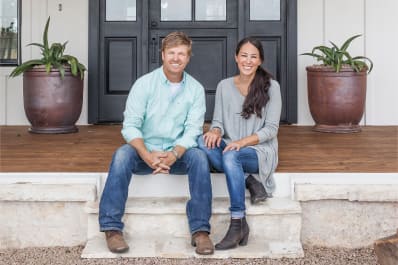 (Image credit: Courtesy of HGTV)
Want to see your home get a full makeover on Fixer Upper? Well, it turns out it'll cost you a pretty penny.
According to TheCheatSheet.com, contestants must be willing to drop a minimum of $30,000 on renovations in order to have the wonders of Waco, Chip and Joanna Gaines, show up on your doorstep ready for a full demolition. All that shiplap is darn expensive, y'all!
But having the funds to pursue the renovations isn't the only qualification contestants must have: All homes featured on the show must be within reasonable distance from Waco, and they have to be purchased before filming begins, which means the house-shopping segments of the show must be determined beforehand. We've heard that somewhere before, haven't we? (Cough, cough, House Hunters.)
The contestants are also responsible for paying for the furniture Joanna picks for the home, if they'd like to keep it. And her Magnolia Market taste doesn't come cheap—according to TheCheatSheet, those signs she often slaps on to show a personal touch can cost around $100. And perhaps one of the hardest things to give up to be on Fixer Upper is control: Not only does the cast and crew take over your home for several months, but Chip and Joanna are in total control of the reno during the filming of the show, so if they do something you don't like, you'll just have to wait until the camera stops rolling.
Still, having your home gutted by Chip and Joanna works out to be a bargain. All of the demolition, construction, and renovation work is done at cost, which chops the price down significantly. The Gaines' are then paid the percentage of the profit they normally would have charged the homeowners, plus overhead.
Unfortunately, some couples who have been picked for the show can't make ends meet with all the costs of being on the show. Some have found a profit by renting the homes out on Airbnb, but some chose to just up and sell the properties. Point being, if you're looking for straight up cash, you may want to head over to Wheel of Fortune instead.
Updated from a post originally published 11/01/17 - TB
Apartment Therapy supports our readers with carefully chosen product recommendations to improve life at home. You support us through our independently chosen links, many of which earn us a commission.