A Real Life Exercise Diary: What Happened When I Started Going on Walks Every Morning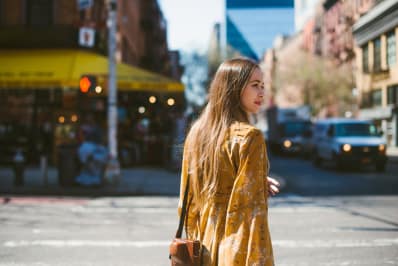 (Image credit: Lauren Naefe/Stocksy)
Here's the thing: I used to be a very productive person in the morning. I used to be a wake up early, make myself breakfast, get out the door and make it into the office before everyone else kind of person, but lately I've fallen into a very slow and tired routine.
My recent mornings have been kind of a struggle, so I decided to try something new to get me out of my AM slump: getting up and going for a walk outside before doing anything else.
I decided to map out a route in my neighborhood that would add up to about 30 minutes or so of walking each day—it wound up being exactly 1.5 miles. I also kept a diary about how I felt to see, first, if it was doable for me, and second, if I got any benefits from my new morning walk routine.
Here's how it went, and what I learned along the way:
Day 1: Monday
I'll be honest, I was not excited to get up earlier and go for a walk on a Monday morning, so I decided the best way to ease into it was to work from home so I wouldn't have to wake up quite as early as I would if I were doing this before going into the office. It took me around 30 minutes from the time I woke up to get out the door, but I made it and it was relatively painless. The rest of the day, I felt much more energetic than I typically do—to the point where for most of the work day, I was antsy and really wanted to get back outside and be active. I usually try to go to the gym after I sign off on my work-from-home days, but I probably only make it about half the time. This time I couldn't wait to go, and I walked there and back—adding another 2 miles to my day.
Total Miles Walked: 3.5
Day 2: Tuesday
I somehow wound up starting this experiment in the HOTTEST WEEK of the entire summer so far, and I'm not sure what I did to deserve it, but basically from Tuesday onwards all I can remember is sweating a lot (so it's a good thing I kept a walk diary all week!). Anyway, I got up at 6:40 am without even hitting snooze once, which is truly impressive for me (I'm not one to sleep in, but I'm definitely not a morning person, either). I made it out the door before 7:15, came back, hopped in the shower, got ready and made it to the office earlier than I usually do. I walked from a farther subway stop than usual, so that added another half mile to my day. I felt great all morning—that same energy boost from Day 1 and a whole lot of productivity, but by the time I finished my lunch, I felt myself crashing. So, I decided to take another walk, this time to go get vegan soft serve in the hopes that it would make the 90-degree heat more bearable—it did! (and that added another 1.5 miles to my day). I still felt tired for the rest of the afternoon, but it did give me a little bit of a boost to get me through, and that night, I slept great.
Total Miles Walked: 3.5
Day 3: Wednesday
Day 3 got off to a great start, I woke up ready—and honestly, excited—to go for my walk even though it was still super hot outside. I was so into my walk and listening to my music that I actually strutted right past where I was supposed to turn on my route and then had to turn around. I spent the rest of the day feeling pretty great and full of energy, and then when I was all done with work, I headed to the park to see an outdoor screening of The Neverending Story—one of my childhood favorites—with a few friends (I cried a lot. It was great!). The walk to and from the park added an additional 1.5 miles each way, making it the day I walked the most through the entire week. I got home late from the movie, but I still feel like I slept really well.
Total Miles Walked: 3.7
Day 4: Thursday
Day 4 was kind of a rough day for me for a few reasons. For one, chronic illness means that sometimes I just wake up not feeling so hot, and Thursday was one of those days. I felt super nauseated and I didn't want to get out of bed, but I made it...eventually. I woke up early and spent some time relaxing on the couch, made myself some breakfast, and then left for my walk—a late start, but a start nonetheless. The walk actually helped a little, and I managed to be pretty productive. By the afternoon I was feeling better and was considering going to the gym after work, but then I found out about some unfortunate news and, being an emotional cleaner, spent the rest of the evening post-work doing chores around the apartment. Then I went to bed early. I'm still considering it a win that I managed to not skip my walk even when I wasn't feeling my best, and I'm glad to know that it helped.
Total Miles Walked: 1.5
Day 5: Friday
On Friday, I woke up feeling a lot better and managed to get myself out the door in less than 15 minutes. My walk was great, and unlike Day 2, I managed to keep my energy up all day in the office. After work, I walked to get happy hour drinks with some of my coworkers, and then I went home to finish up a few more work-related things. It was a pretty standard Friday, but I noticed that I didn't feel my usual end-of-week sleepy slump sneaking up on me, so I think that my morning walk actually helped.
Total Miles Walked: 2.5
Days 6 & 7: The Weekend
I combined the weekend days because they were both pretty similar. Rather than wake up early and go right out for my walk, I let myself be a little lazier—I am still a fairly early riser (I honestly can't remember the last time I slept past 9 am and I can't sleep in no matter how hard I try), so while I woke up around 8 both days, I relaxed for a bit first and didn't head out for my walk until around 10-10:30. I had brunch plans both days, so I gave myself just enough time to walk the full 1.5 mile route before I had to head back home and shower and get ready. Both walks were super pleasant, and when one of my friends asked why I was still taking them on the weekends (I posted about the walks in my Instagram story every day—fun and mildly embarrassing outtake below!—to hold myself accountable, so she saw me out on Saturday morning and was curious) I told her that I genuinely was enjoying this little experiment and planned to keep it up even after the week was up—and it's true!
Total Miles Walked: 3 (Saturday), 2.5 (Sunday)
Total for the Whole Week: 20.2 miles!
Here please enjoy this outtake of me trying to take a cute morning walk selfie video and forgetting I'm too tall for the neighborhood trees pic.twitter.com/QUtroQN3Se

— Brittney Q. Morgan (@brittneyplz) July 25, 2017
Conclusion:
To be totally honest, it only took a few days for me to start relying on these daily morning walks. Something about all the fresh air and the sunlight and getting myself moving first thing in the morning really does seem to make a difference, not just physically, but mentally, too.
I noticed that I felt less tired and more energetic throughout the day, but also that I felt stronger and less bloated by the end of the week. I weighed myself before and after, not because I went into this looking to lose weight—my goal was specifically to focus on how I felt, and I try not to focus on numbers for several reasons—but because I was genuinely curious if I would see a difference, and I did see a small change on the scale. But way more importantly, I could feel a big positive change in myself and my mood. I felt happier and more positive, not to mention more awake and more productive. I also felt super proud of myself for sticking to it every day; it felt like each morning was another little win. (Life Pro Tip: If you want to form a healthy habit, force yourself to do it every day for work where you can't make excuses).
On that next Monday (the first day after this week-long experiment), it was downpouring all morning which meant I couldn't go for my walk without getting fully drenched. I stayed in and I felt a notable shift in my mood and in my body—all morning I felt more sluggish and tired than I had been in days. And in general, my day felt incomplete, and I was genuinely excited to go out for my walk the next morning, and the morning after that, too.
Overall, it was a super positive experience and daily morning walks are a habit I fully intend to keep up. (Related: I'm really not looking forward to winter now!).