Here's What the Homes in Annie Hall Are Worth, 40 Years Later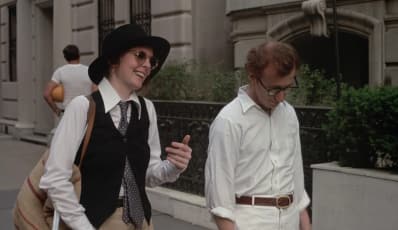 (Image credit: MGM)
Annie Hall is 40 years old this month. Ever wonder what the property in the film costs now? Let's investigate.
Annie Hall came out in April 1977. Winner of four Academy Awards, including those for Best Picture, Best Director, and Best Actress for Diane Keaton, it's always been one of my favorite romantic comedies (up there with When Harry Met Sally) and certainly my favorite Woody Allen film. (Though I'll admit it's grown harder to enjoy in recent years, like a Cosby Show rerun, knowing what we know.)
Annie Hall is also, in many ways, a geographically faithful ode to bicentennial Manhattan, a time when the city had just barely avoided bankruptcy and Times Square more closely resembled a red light district than the urban Disney World it is today. Much of the film takes place on the streets of New York, in fairly recognizable locations — many of which still exist despite the city's incredible transformation in the decades since.
That got me thinking: What would Annie's Upper East Side apartment cost today? What about Alvy's beach house in the Hamptons? And which one would have appreciated more in the past 40 years?
Annie's Apartment
After a terrifying drive in Annie's Volkswagen Beetle and a comically bad parking job ("Don't worry, we can walk to the curb from here," Alvy says), they end up chatting on Annie's enviable rooftop terrace. Thanks to some incredible sleuthing by Bob Egan at PopSpotsNYC, it appears that apartment is at 36 East 68th Street, between Madison and Park on the Upper East Side.
Later in the film, when Alvy is trying to convince Annie to keep the apartment even though they're moving in together — a nearly inconceivable luxury in this day and age — she tells him, "That little apartment costs $400 a month, Alvy." What's more, she says, it's got spiders and bad plumbing. (Yeah, but still — that terrace!)
Simply adjusted for inflation, that $400 figure — which appears reasonable for the 1970s — amounts to about $1,800 a month in 2017 dollars.
Of course, Manhattan rents have never felt constrained by mere inflation. The average rent in Manhattan hit $3,940 a month in March, according to MNS; an unremarkable one-bedroom in the building next door to Annie's apartment is currently listed for rent at $3,650/month, and that's without a rooftop retreat.
Annie's apartment (rent): +812%
There's little doubt that, as an amateur singer and photographer, Annie would have been priced out of that apartment eventually if she hadn't moved to Los Angeles anyway. However, if she had found a way to purchase it, she'd probably be a millionaire by now.
Manhattan real estate was selling for about $45 per square foot in the 1970s, according to appraisal firm Miller Samuel, putting a 600-square-foot apartment at roughly $27,000. In 2016, meanwhile, Upper East Side condos sold for an average of $1,748 per square foot, according to City Realty - meaning 600 square feet would now set you back about $1,048,800.
Annie's apartment (home value): +3,777%
Yowza.
---
Alvy's Beach House
What about the beach house in the Hamptons, where Alvy is famously frightened by the lobsters scuttling around the kitchen? That scene was reportedly filmed at the home of East Hampton Star editor David Rattray on Cranberry Hole Road in Amagansett.
The average home price in Suffolk County back in 1978 - as far back as I could find - was $43,317, according to county data. By May of 2013, the average price had risen to $315,000, and by that basic measure, the value of the Hamptons house would have risen an estimated 627%.
Suffolk County is big, though, and those data don't capture the all-time highs reached in 2014. Fortunately, we can use another famous movie home as a proxy: The 1897 house made famous in the film Grey Gardens.
That nine-bedroom East Hampton estate is just a few miles down the road from the Annie Hall house, and was also purchased by an editor — the late, great Ben Bradlee of the Washington Post and his journalist wife Sally Quinn — for $220,000 in 1979. It had fallen into spooky disrepair, so the couple spent $600,000 restoring the property, and it's now on the market for $18 million.
Factoring in the money spent on renovations, and generously assuming it fetches something close to the asking price, that's a pretty staggering price increase of 2,097% since 1979.
Hamptons house (home value): +2,097%
Still, in perhaps the most predictable New York plot twist of all, it appears Annie's landlord would have reaped the biggest real estate rewards over the past 40 years. "Well, lah-dee-da," as Annie Hall would say.